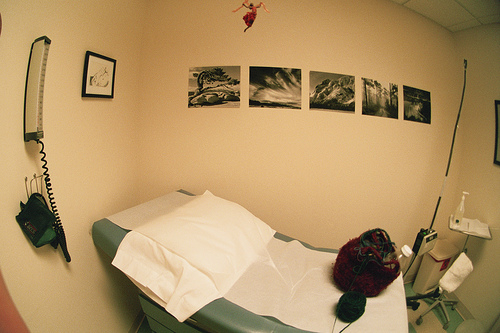 This post is about a recommended gynae in Kuching.
Before you read on further, I would like to clarify that, this is not a sponsored post and I am not related to this gynae.
The reason I share this is that I understand at times it can be difficult to find a reliable and trusted gynae in Kuching. And based on my own experience, I am quite satisfied with the professional service provided by this gynae.
I prefer female gynae
I have to admit that I dislike going to gynae.
The thought of going to a gynae, especially a male gynae makes me feel very uncomfortable.
But, most of the gynae available in Kuching are male.
It is not that male gynae are not good gynae because they are male and they don't know well about the female body. In fact, many male gynae are really good gynae.
But somehow I still prefer a female gynae. I just feel more comfortable with a female gynae especially if there are some procedures involved.
In Kuching, there is a limited number of experienced female gynae.
I've been to 3 female gynaes in Kuching before I heard of C M Wong Specialist Clinic for Women. After my first visit to C M Wong Specialist Clinic for Women, somewhere in 2001, Dr Wong becomes my preferred female gynae.
My first visit
My first visit to C M Wong Specialist Clinic for Women was due to a recurrent infection that had been bothering me for about one year.
I had been seeking treatment at another gynae in Kuching 2 times but was offered the same antibiotic without further advice. I feel this gynae was not able to provide me with a personal touch to further understand and solve my infection problem.
During my first visit to C M Wong Specialist Clinic for Women, Dr Wong asked me about my problem and the history of the issue.
After some physical check-ups, she suggested a pap smear and a further lab test.
At the end of the appointment, she handed me the same type of antibiotic which was given by the other gynae earlier.
But, she made a difference when she also gave the same antibiotic to my hubby. She said this is important to prevent the recurrence of the infection.
She also gave other additional advice (it is quite personal, so I won't share the details here) which I believe finally cured the infection.
The total amount I paid for the professional service, procedure and antibiotic was RM108.00.
I think the charge is very reasonable and most importantly I got the recurrent infection cured.
My second visit
About a week later, I got the lab test report. Thank God, the lab test came out clean.
When I went to pick up the report, I also asked for Dr Wong's advice because hubby and I had been trying to conceive for 2 years but still no good news.
She told me to come back to see her, together with my hubby.
She also informed me to bring along all the lab tests my hubby and I had done earlier at other labs and specialist centres.
That weekend, we went to see Dr Wong.
Firstly, she asked us about our trying to conceive history while looking at all the lab tests and reports that we had done earlier at other labs and multiple specialist centres including Sarawak General Hospital.
Then she examined me too. She said things look normal to her.
Perhaps we require a little bit longer period compared to other couples to have good news.
So, she only prescribed hubby and me a bottle of good quality vitamin E.
A few months earlier, when I visited a different gynae for the infection problem, she suspected I had endometriosis causing me to have difficulty conceiving.
Thinking back, I was quite angry because that gynae suspected me of endometriosis without any further checking.
Dr Wong said, based on her scanning and examination, I don't have endometriosis.
This is another plus point for Dr Wong because she is confident and she knows how to handle patients well.
She knows what she's doing
After 4 long painful years including a failed IVF treatment, finally what Dr Wong said really come true.
I conceived naturally in 2015.
She was delighted when she did the first early scanning to confirm my pregnancy.
One night during my second trimester in early 2016, I had pain in my lower right abdomen. I immediately think of Dr Wong and the next morning, I went to seek her advice.
When I consulted Dr Wong, after some physical testing, she quite confirmed it was acute appendicitis. She immediately wrote a reference letter to Sarawak General Hospital (SGH). She advised me to go to Sarawak General Hospital because the possibility of appendicitis during pregnancy was rare.
Sarawak General Hospital is a medical centre in Kuching with the most experienced team of specialists. And Sarawak General Hospital has all the equipment and facilities needed for an emergency.
Furthermore, she said most probably my medical card won't cover my appendix surgery due to pregnancy. I am glad that I followed Dr Wong's advice.
The acute appendicitis experience at Sarawak General Hospital was not that pleasant. But I am thankful that both my baby and I were fine.
You can read more about the experience in my other post, My appendix surgery cost (during pregnancy).
A recommended gynae in Kuching
In the past few years, when I asked around for a recommended gynae in Kuching, among the highly recommended gynaes is Dr Wong.
I've also heard negative comments from others that Dr Wong is too fast during the consultation. Some said Dr Wong is not gentle when carrying out the procedure.
But there are also many good comments about Dr Wong as well. Such as she is an experienced gynae and she provides sound solutions to her patients.
Personally, for me, she is a caring and understanding gynae. She was quick during the consultation. And usually, she mentions the important points.
Thus, I will prepare myself with questions before I go to see her.
I believe all specialists are quick because other patients are waiting for their turn. And I had no problem when she carried out the procedure. She's gentle and professional.
So, my sharing above on a recommended gynae in Kuching summarized why C M Wong Specialist Clinic for Women is my preferred gynae locally in Kuching.
In case you need to see her, the contact is as below:
C M Wong Specialist Clinic For Women
Address: No. 256, Ground Floor, Jalan Haji Taha, 93400 Kuching, Sarawak
Consultation hour: Monday to Friday (8:30 am to 12noon, 2:30 pm to 4:30 pm)
Consultation hour: Saturday (8:30 am to 12 noon)
Phone number: 082253366
It is advisable to call and make an appointment before you drop by. Because sometimes she is not around and the clinic is not open.
So, to avoid disappointment, ring them up to check her availability before you visit them.
I hope my above sharing benefits you. Do you have any other recommended gynae in Kuching? Feel free to leave your comments below.
Read more: The cost of giving birth at SGH Sarawak General Hospital
photo credit: cafemama adventure with everett: exam room at Everywoman's Health, 3:20 p.m. via photopin (license)