Do you want to earn free cryptos such as Bitcoin?
In this post, I will share various ways to receive free cryptos with minimal effort. Four of these are proven and legitimate ways that I've personally used and have received free cryptos credited to my crypto wallets.
Table of Contents
[Disclaimer: I am not a certified financial planner. My sharing is purely based on my own research and personal experience. To make the best financial decision that suits your own needs, you must conduct your own research and seek the advice of a certified financial planner if necessary]
Earn free cryptos with 4 proven ways
The valid strategies in this sharing are based on my own experience from investing in Bitcoin since 2017.
Here are the 4 proven ways you can earn free cryptos with little effort:
1. Earn free Bitcoin (worth RM75) through the Luno referral campaign
The first way to earn free cryptos is through sign-up rewards by Luno, a leading global cryptocurrency company.
Currently, the digital exchange is offering different types of sign-up bonuses to reward new users. Since these are sign-up rewards, you are only eligible to redeem the reward once.
One of the tried and tested successful ways to earn free cryptos is by registering for Luno through its referral campaign.
This is where you get a sign-up bonus of Bitcoin rewards when you register and redeem a dedicated promo code through the Luno referral campaign with selected partners.
This personal finance blog, The Money Magnet is among those partnering with Luno Malaysia to promote the digital exchange to fellow Malaysians. As such, new Luno Malaysia users may enter my dedicated Luno promo code to be eligible for the free Bitcoin.
Back in 2021 and 2022, The Money Magnet readers are eligible for RM50 Bitcoin rewards when they signed up, entered my Luno promo code, and bought RM500 of crypto.
My husband is among those who successfully earned free Bitcoin (0.00022221 BTC) worth RM50 when he applied
my code and bought RM500 cryptos through the Instant Buy feature.
The screenshot of my husband's sign-up rewards of RM50 in Bitcoin is below.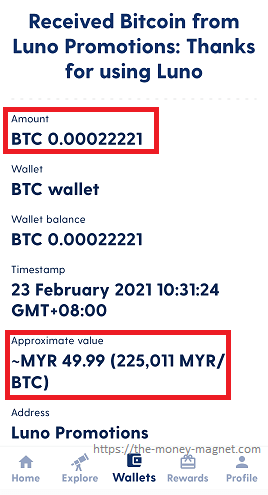 And for the year 2023, Luno enhanced the promotion by rewarding you with RM75 Bitcoin rewards when you sign up, enter my Luno code PAWHVW, and buy RM250 of crypto.
You can find the details in my other write-up, the Luno Malaysia review on how you can redeem the Luno promo code in free Bitcoin worth RM75. Make sure you read through the details and be aware of the important notes to redeem the Bitcoin rewards successfully.
2. Earn free Bitcoin (between RM25 to RM75) through Luno invite code or invite link
The second proven way to receive free cryptos is through an existing Luno user's invite link or invite code.
Prior to 2023, as a new Malaysian Luno users, you get to receive the standard RM25 in Bitcoin as a welcome reward when you sign up through an existing Luno user's invite link or enter a valid Luno invite code in your newly created account.
In 2023, Luno introduced new Reward Levels.
This is where you'll receive either RM25 or RM50 or RM75 of free Bitcoin as a welcome reward when you sign up and enter a valid Luno invite code in your newly created account.
The Bitcoin reward depends on the existing Luno user's Rewards Level (more on this later).
Currently, I am at Level 3. This means you are entitled to RM75 Bitcoin rewards if you register and enter my Luno promo code.
To receive the free Bitcoin, you'll need to:
sign up through an existing user's invite link (my Luno invite link, you may check the details of the reward on the link as well) or;
enter a 6-digit existing user's invite code at the 'Rewards' tab upon activation of your account (my invite code is PAWHVW);
buy RM250 (or the specified amount on your reward screen) worth of cryptos using the Instant Buy feature.
Once your crypto purchase reaches RM250 (or the specified amount) through Instant Buy, you shall receive a notification of the pending reward of RM75 in Bitcoin. After 30 days, you'll receive another notification that your Bitcoin reward is available in your Bitcoin wallet.
That is an instant 30% return on your crypto investment.
Back in 2020, I signed up for the digital exchange through an existing user's invite link. Below is a print screen of the free Bitcoin (0.00090535 BTC) worth RM25 I received from the digital exchange when my crypto purchase hit the then RM250 minimum threshold.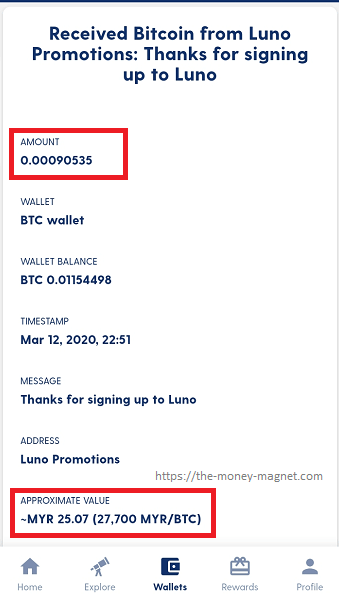 That 0.00090535 BTC might look very small. But as Bitcoin increases in value, it could grow into something significant. I believe, in the future, every Satoshi counts (1 Bitcoin is equal to 100 million Satoshi).
Another important point is that Luno has the full right to change the Bitcoin rewards, minimum crypto purchase required, and other terms & conditions of the referral program.
So, grab the free Bitcoin rewards while it lasts!
3. Earn unlimited free Bitcoin from the Luno referral program
The third way to receive free cryptos is by taking part in the Luno referral program.
Once you are a verified Luno user, you can participate in the referral program by sharing your invite link or invite code with your friends.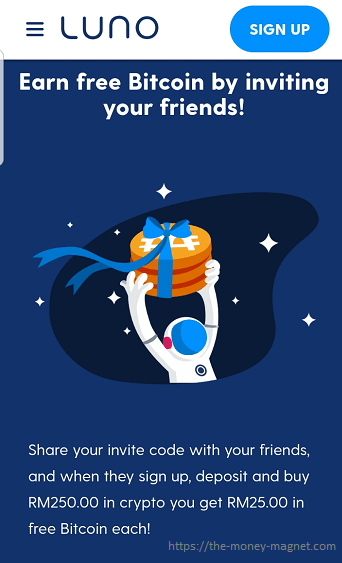 As mentioned earlier, prior to 2023, existing Luno customers shall receive RM25 in free Bitcoin when their friend (aka referee):
sign up through the invite link or enter the unique invite code;
buy a minimum of RM250 (or the specified amount required) worth of cryptos through the Instant Buy feature.
In early 2023, Luno introduced new Reward Levels. Instead of the plain RM25 Bitcoin rewards, now you can earn up to RM75 Bitcoin rewards when your friends and family signup and redeem through your referral code.
You can read more about the Reward Levels and how to level up in my other post on Luno Malaysia Review.
The print screen below shows some of the Bitcoin incentives I received from referees who successfully redeemed my Luno code.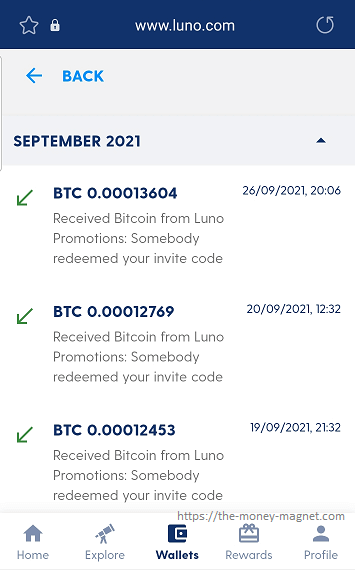 The best thing about earning free Bitcoin by inviting others to crypto exchange is that there's no limit to how many referees you can refer to.
That means you can earn unlimited free Bitcoin.
Furthermore, currently, there's no deadline to hit the minimum crypto purchase. Thus, your referees can take their sweet time accumulating the minimum crypto purchase.
4. Receive free Bitcoin through Luno seasonal promotions
The fourth way I've used to successfully receive free cryptos is through Luno seasonal promotion.
In 2021, I received an email from the crypto exchange mentioning I am one of the consolation prize winners for its Jom Bitcoin Edisi Merdeka 2021 campaign.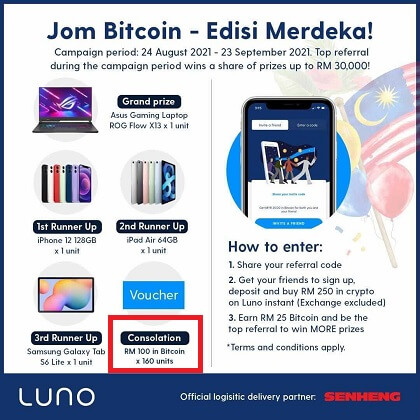 A few days later, I successfully redeem the consolation prize of RM100 in Bitcoin in my wallet. I share the print screen of the reward below.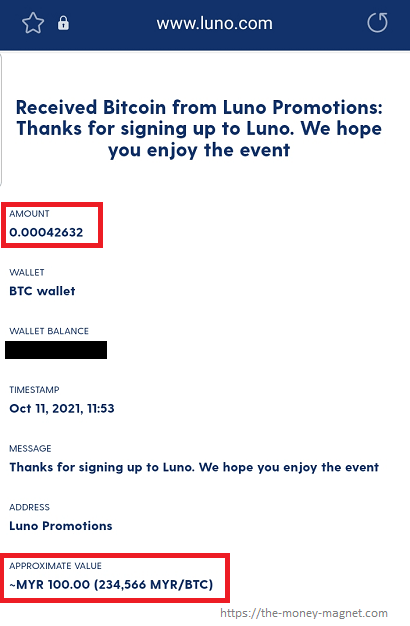 For sharing purposes, during the 2021 Chinese New Year (CNY) Trading Giveaway, the main prize was Bitcoin worth RM28,888.88. Such a generous amount, right?
So, from time to time, do check out the Luno rewards and promotions page for the latest competitions and giveaways. Although the chance to win the prizes is not that high, these are still a good and most importantly legitimate opportunity to earn free cryptos in Malaysia.
Other alternatives to earn free cryptos
So far, you'll notice all of the methods to collect free cryptos are from Luno Malaysia, the first crypto exchange approved by the Securities Commission of Malaysia (SC).
You might be wondering if there are any other ways to earn free cryptos.
In fact, yes. Besides the above-mentioned ways to earn free cryptos, it is also possible for you to receive free cryptos in other ways.
Signing up for other digital exchanges
Probably you've come across other well-known crypto exchanges such as Binance, Coinbase, Huobi, Kraken, and others. These top-rated crypto exchanges have global support.
Some of them offer fascinating ways to earn free cryptos such as:
attractive sign-up bonuses
lucrative referral rewards
high-interest crypto staking
I know, it can be tempting to sign up for these digital exchanges. Unfortunately, these exchanges are unregulated by SC.
If you want to sign up and use digital exchanges not listed under SC, make sure you know what you are doing and be aware of the risks involved.
For me, I prefer to use crypto exchanges regulated by SC. Compared to other types of investments, Investing in cryptocurrency is high risk. It is even riskier to use crypto exchanges not regulated by SC.
Joining P2P platforms
Other than crypto exchanges, some peer-to-peer (P2P) platforms also offer cryptos rewards through:
sign-up bonuses
commissions from affiliate programs
In 2019 I did receive free cryptos in Bitcoin through the P2P platform Remitano's referral program. But, when SC blocked access to Remitano in the second quarter of 2021, I decided to only use digital exchanges regulated by SC.
Crypto airdrops
Another way to receive free digital coins is through crypto airdrops. An airdrop is an event where crypto developers give away free coins as a result of:
hard fork

in simple terms, a hard fork is when single crypto is split into two, such as Bitcoin and Bitcoin Cash.

promoting a new coin

it is not easy to stand out among the thousands of existing coins. So, crypto startups may use the free distribution of new crypto to create awareness in the crypto community.
When you receive airdrops, you may choose to:
make a profit by selling the free coins immediately
hold the free coins and hope the value will increase
Some airdrops are proven to be an opportunity to make a lucrative profit from free coins. But, be extra careful not to fall into scams, phishing, or hacking attempts.
Earn free cryptos wisely and responsibly
While looking for ways to get free cryptos, be careful of claims of giving away free cryptos without clear terms and conditions. Usually, free cryptos come with certain requirements.
Some of these requirements might include:
signing up for a service (crypto exchanges or platforms)
promoting a service to others (referral programs)
locking your fund in a platform (crypto stacking)
taking part in competitions or quizzes
holding a specific amount of specific cryptos (crypto airdrops)
In other words, there is either some kind of effort needed or risks involved to earn these free coins. Be cautious if you've been offered free cryptos without clear terms and conditions.
If you think something is too good to be true, it probably is. Take extra precautions not to fall into all types of crypto scams.
Besides, do check with your local authorities on cryptocurrency regulations.
For example, if you want to use unregulated digital exchanges and crypto platforms in Malaysia, consider the following:
Is it worth it to get panic when SC announces blocking the platform in Malaysia?
How about the fees and effort involved when you urgently need to transfer your digital assets to other platforms?
What if you can't get access to your crypto account?
So, before you decide, know the risks you are taking and do your due diligence.
Final thoughts
With the above sharing, I hope you are now aware of the various ways you can earn free cryptos. Especially the four genuine and proven opportunities to own free cryptos from Luno, the regulated crypto platform in Malaysia.
I believe I will still come across other ways to earn free cryptos. When that happened, I shall update this post.
Lastly, if you know of other legitimate ways to earn free cryptos, especially in Malaysia, please comment below. I would love to know.
Image Credits
Featured image by Bianca Holland from Pixabay
Jom Bitcoin – Edisi Merdeka courtesy of Luno Malaysia
All screenshots were taken by the author