This Wise card review is written based on my experience using the card as a cardholder from Malaysia.
If you need to deal with currency exchange (travelling abroad, receiving foreign currency, shopping online internationally), you'll need to know this unique card.
In this Wise card review, you will find the Wise card's features, pros and cons, fees, and how to order one yourself. I'll also include some personal tips, FAQs and other things you need to know before using the international card.
Table of Contents
[Disclosure: This post contains references to our partners who compensate us. But, this does not influence our evaluations. Our opinions are our own.]
About Wise card
Let's start this Wise card Malaysia review with a brief introduction to the fintech company behind the card.
Wise (formerly known as TransferWise) is a specialist in international money transfers and currency conversion, which offers Multi-Currency Account (MCA) to individuals and businesses.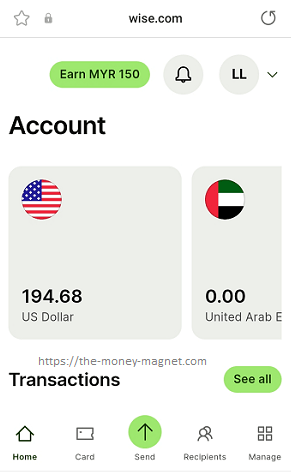 The MCA is linked to a debit card known as the Wise card. This card allows users to spend money locally and abroad in over 50 currencies at real exchange rates with no hidden fees.
I came across Wise when I was looking for a low-cost way to receive USD in Malaysia. Upon signing up, I found that Wise not only helped me to save on wire transfer fees but also offers a great way to manage the fund in my Wise MCA account.
You can read my other blog posts about Wise Multi-Currency Account Review and Wise money transfer review.
I then ordered the debit card to have easy access to the USD funds in my MCA account.
After start using the Wise MCA and debit card, I see the reasons why others said Wise could be a game changer in the cross-border payments and foreign exchange industry.
Here are some important things about the unique debit card for cardholders in Malaysia.
Wise Visa debit card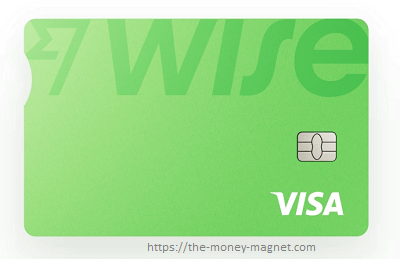 The card type (whether Visa or Master) depends on the country where you apply for your card. For cardholders in Malaysia, the green card (as shown above) is a Visa debit card.
You can spend the prepaid money stored in your MCA account through the card via:
online
over the phone
in person at stores accepting debit cards
You also can use the card to withdraw money from ATMs in Malaysia and overseas.
Authorized by Bank Negara Malaysia (BNM)
In Malaysia, the Wise card is issued by Wise Payments Malaysia Sdn. Bhd., an Electronic Money Institution authorized by Bank Negara Malaysia (BNM).
Globally, Wise is also registered with regulators in countries around the world where it is operating to comply with international financial services legislation.
So, the international card is safe and legitimate to use.
Wise Personal card and Business card
The unique debit card is available for both personal and business purposes.
To have a business card, you will need to register for a Wise Business account, and then order the debit card through your business account.
Pros of Wise card
I have been using the Wise Visa debit card since 2022.
Based on my experience and research, here is a list of the debit card features and benefits which I find helpful and worth mentioning.
1. Significant savings
The Wise debit card offers significant savings through the features below:
No maintenance fee
Wise charges a one-time fee of MYR 13.70 to get the card.
As of the time of writing, there are no monthly, yearly, or subscription fees.
Real exchange rates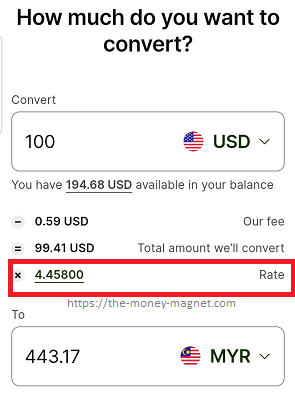 As shown above, Wise uses the actual mid-market exchange rate, which is the rate at which banks exchange currencies with each other, without any markup.
This means you can save money on currency conversion. You may try out the exchange rate calculator yourself.
Free 2 ATM withdrawals
No fee for two withdrawals up to MYR 1,000 per month when you use the debit card to make cash withdrawals at the ATM.
Low transaction fees
No fee to spend the currency in the Wise account and a low foreign transaction fee starting from 0.43%.
Wise promises no hidden fees. So far, I have not seen hidden fees in my transactions.
The above features shall help you save money in both the short and long terms.
2. Linked to Wise Multi-Currency Account
As mentioned earlier, the Wise debit card is linked to a Multi-Currency Account (MCA), which allows you to hold and manage balances in over 40 currencies, including Malaysian Ringgit (MYR) and some of the popular currencies below:
Singapore Dollars (SGD)
US Dollars (USD)
British Pound (GBP)
Australian Dollars (AUD)
Euros (EUR)
This means you can easily manage money in different currencies without opening multiple bank accounts. And you can use your card to make transactions in multiple currencies without having to pay extra fees for currency conversion.
The multi-currency support feature is particularly beneficial for frequent travellers and international business people.
You can learn more about Wise MCA features and benefits in my other post on Wise Multi-Currency Account review.
3. Digital Wise card
The Wise card also comes with digital cards or virtual cards.
This is where you can have a different set of card details from your debit card, but draw from the same balances in your Wise Account. The digital card shall be activated instantly when you ordered your debit card.
So, while waiting for the physical card, you can start using the Wise virtual card for your online purchases.
Here are things worth knowing about Wise digital or virtual cards:
Exist in the mobile app or web-based
Free of charge
No monthly or annual fees
Instantly generate new card details anytime
Since you can instantly generate new virtual card details anytime, the Wise digital card will be helpful when performing transactions at stores that you don't trust with your details.
4. Enhanced security
Wise uses advanced security measures to protect your account and card information through the features below:
Two-factor authentication (2FA)
For web-based users, after signing in by entering your email address and password, an SMS with a verification code will be sent to your mobile number.
You can only access your Wise account including your debit and digital card after you've successfully entered the verification code.
Freeze and unfreeze features
Upon receiving it, the card is frozen. This means the card is not active. You'll need to log in to your Wise account and click 'Unfreeze' to activate it.
When the card is frozen, no transaction is allowed.
Chip and PIN technology
For every transaction at the merchants or ATMs, you will need to enter the card's 4-digit PIN. Without the PIN, transactions are not allowed.
Block and unblock pin feature
By default, the Pin Block feature is activated. This means if you've entered the wrong PIN 3 times, the PIN is blocked and the Wise card won't work.
You can always choose to activate or deactivate the Block and Unblock pin feature from your Wise account. This acts as another layer of security.
I find that the freeze and unfreeze option is especially useful. What I practice is freezing the card and only unfreezing it if I need to use it.
With this, I can prevent unauthorized card transactions.
5. Easy to use
The debit card is easy to use and can be managed online through the Wise mobile app or website.
You can perform the following from the Wise mobile app or website:
check for balances
track and your spending
to view your transactions history
freezing and unfreezing your card
setting up alerts
This makes it easy to manage your money on the go from anywhere in the world.
6. Quick and Convenient
The unique debit card makes spending and travelling convenient with the features below:
ATM withdrawals worldwide
You can withdraw cash from ATMs in Malaysia and around the world for free up to a certain limit. This means you can access your money easily while travelling or in emergencies.
Contactless transactions
Other than through Chip and PIN, Wise card also allow you to make contactless payment.
Real-time notifications
You will receive real-time notifications for all your transactions, so you can track your spending and stay on top of your finances while travelling abroad.
Fast transactions
Transactions with Wise debit cards are usually processed within seconds, making it a quick and convenient way to pay for goods and services, both locally and abroad.
Local payment options
In Malaysia, you can top up your Wise account using local payment methods, such as through FPX or bank transfer, making it convenient and accessible to a wide range of users.
7. Smart Auto-Convert technology
Another feature worth mentioning is Wise's Smart Auto-Convert technology.
Auto conversion when making payment
If you have US dollars in your Wise MCA, and you are paying for your lunch in McDonald's Kuching in Malaysian Ringgit (MYR), you don't have to convert the USD into MYR.
The Wise Smart Conversion technology will automatically convert the needed USD amount for the lunch.
I tried out the Smart Auto-Convert myself during one of my visits to McDonald's Kuching. You may refer to the transaction details below.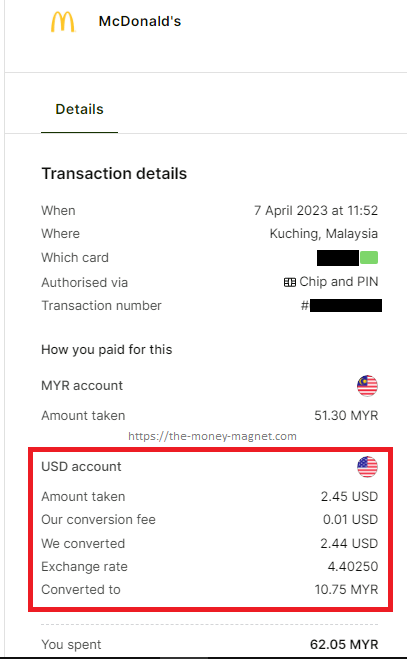 If you have multiple currencies in your Wise card, the Smart Conversion technology will choose the balance that has the lowest conversion fees. If the conversion fees are the same, Wise will use the one with the best exchange rate.
This help you to get the most for your money.
Setting up Auto Conversions at your desired exchange rate
Wise also allows you to create automatic conversion between two eligible currencies. When the desired exchange is met, the auto-convert technology will do the conversion for you.
Do take note that Auto Conversion is only for certain currencies.
8. Accepted globally
Having a Wise international card means you can hold over 40 currencies to spend in over 150 countries.
So, you can travel to most places with peace of mind knowing that you can convert to local currencies anytime.
No wonder the other name for the card is Wise travel card.
Cons of Wise card
This Wise card review would be incomplete without mentioning its limitations.
Based on my experience and research, here are 6 drawbacks of the debit card that you need to be aware of:
1. Not available for residents in some countries
As of the time of writing, the Wise debit card is available in most countries but not all countries.
For example, as of the time of writing, the Wise card and services are not available yet for residents of Taiwan. Also, not all currencies are on the list.
Anyway, I believe the Wise team is working hard to bring its international card to everyone.
2. Limited acceptance
The Wise debit cards may not be widely accepted in all locations by all merchants, particularly outside of major metropolitan areas or in countries where Wise does not have a strong presence.
But, Wise is actively expanding its coverage.
3. Spending Limits
The international card comes with default and maximum limits, depending on the country where you apply for your Wise card.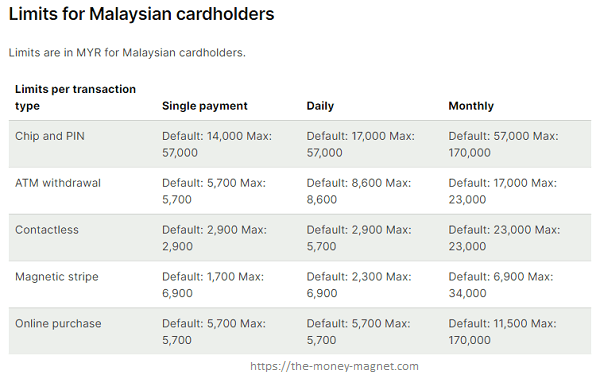 The screenshot above shows the limits for Malaysian cardholders. For the latest update, please refer to the spending limits on the Wise website.
The positive side of the limits is that it's a good personal finance practice. The spending limits prevent you from overspending. It also limits the damage from unauthorized transactions.
4. ATM withdrawal fees
As mentioned earlier, ATM withdrawals of more than MYR 1000 or more than two times in 30 days are subjected to MYR 5 fee + 1.75% per withdrawal.
Furthermore, some merchants or ATMs may still charge their fees for transactions or withdrawals. But, usually, the fees are mentioned before you get started. So, you will have the option to cancel and use another ATM card.
5. Require internet connection
An Internet connection is required to access the Wise online or Wise app.
This means, when you need to manage your Wise card such as to freeze or unfreeze your card or to check the transaction details, you'll need internet access.
Although internet connection and data services are widely available in most places, do take note that you might not be able to have access to the internet in some remote places.
6. No physical branches
Wise is an online service and Wise customer service is also through online and email.
There are no physical branches or offices where you can go for assistance. But so far, I find Wise Malaysia's customer service is prompt and reliable.
Wise card Malaysia fees
In this Wise card review, let's discover the fees and charges for Malaysian cardholders.
Wise card fees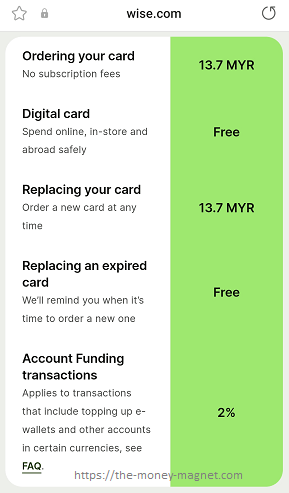 One-off MYR 13.70 fee to get the card
Replacing your lost card by ordering a new card charge at MYR 13.70
Expired card replacement is free of charge
No cost for using virtual cards/digital cards
ATM cash withdrawal fees (Visa-supported ATMs)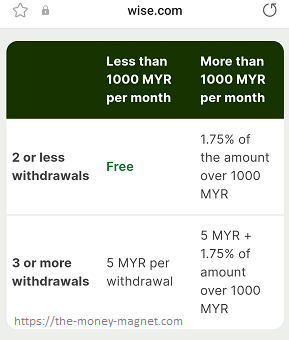 Free for the first two cash withdrawals at Visa-supported ATMs, counted together less than MYR 1000 in any rolling 30-day period
Subsequent ATM withdrawals are subjected to a low fee of MYR 5 + 1.75% per withdrawal
Other fees may be imposed by ATM owners/other networks for checking balance/card balance inquiries.
The limit may increase and decrease from time to time, for security or other reasons
Currency exchange fees
No fee if you spend the currencies you hold in the account
If you need to convert the currencies in your account to another currency, a low currency exchange fee starts from 0.43%
As the fees might change from time to time, please refer to Wise's website on card fees for the latest updates.
How to order a Wise card in Malaysia?
Below is the step-by-step for ordering a Wise debit card in Malaysia:
Register for a Wise account.
Log in to your Wise account and navigate to the "Card" section.
Click on the "Order your card" button.
Follow the instructions:
Enter your personal information (if you haven't done so)
Enter your card delivery address
Set your card PIN (4-digit pin)
Pay for your card (MYR 13.70 through FPX or account (balance if you have one)) and verify your identity.
Choose your delivery options (I chose the standard postal service which is free).
Choose how your name appears on the card (I chose the same with my NRIC and bank account).
Your card is on its way (with an estimated arrival date).
The Wise debit cards for users from Malaysia shall be shipped from Singapore.
For your information, my card arrived one day late from the estimated arrival date. So, please allow some time for the card delivery.
If you urgently need the card, you may choose express delivery but do take note of the delivery cost involved.
How to activate the Wise card?
To activate the Wise debit card, just follow the instruction in the letter attached to the physical Wise card:
Sign on the Wise debit card;
Activate the card by making a chip and PIN purchase.
Take note to remember the PIN (4-digit) to verify your transaction. If you need to change the PIN, you can do so at the ATM.
For sharing purposes, I tried out my Wise debit card at the merchants below (using the chip and PIN):
Pizza Hut Satok, Kuching
a local pharmacy in Kuching
7-Eleven UTC Kuching
McDonald's Jalan Padungan, Kuching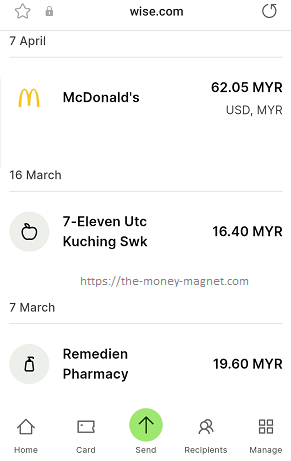 All the transactions were successful.
The cashier at the pharmacy even asked me what type of card it is because she has never seen such a card before. Of course, I told her to check it out at Wise.com.
Tips for using the Wise debit card in Malaysia
Here are some tips and other things worth knowing for using the debit card in Malaysia:
Holding limit of MYR 20,000
The Wise account holding limit for residents in Malaysia is MYR 20,000. This means your Wise card limit is also MYR 20,000.
Your Wise account shall be blocked if you exceeded the limit. And you might need to appeal to have your account activated back.
Make sure your Wise account is within the limit of MYR 20,000.
In case you are wondering, the holding limit is in accordance to Bank Negara Malaysia Regulations for all electronic money issuers in Malaysia. You can read the details on Wise help website.
Plan your ATM withdrawals
As free ATM withdrawals are limited to two cash withdrawals from Visa-supported ATMs to the value of MYR 1000 per 30-day period, plan your ATM withdrawals.
In other words, make one withdrawal of MYR 1000 or a maximum of two withdrawals of MYR 500 each from Visa-supported ATMs.
Refrain from making the third withdrawal or withdrawing more than MYR 1000 in a month. You shall save MYR 5 fees + 1.75% per withdrawal.
Withdraw local currency at ATM
If you have USD in your Wise wallet, first convert your USD to MYR to enjoy the Wise real exchange rate. Once the MYR is in your Wise account, you may withdraw at local ATM in Malaysia.
If you are travelling to Singapore, convert your MYR to SGD in your Wise account. Then, you may proceed to withdraw the SGD at local ATM in Singapore.
In other words, only withdraw the currency available in your Wise account at the local Visa-supported ATM. This is to prevent you from being charged an unfair exchange rate.
Issue with contactless payment
Initially I thought there are problem with my Wise card contactless payment. But actually, I had turned off the contactless payment option.
So, I'll try out the contactless payment soon and shall update it in this Wise card Malaysia review. As for payment through chip and PIN, so far all my transactions were successful.
If your Wise card contactless payment failed, you may try with the chip and PIN.
Freeze when not in use
For security purposes, consider freezing your Wise debit card and digital cards when you think you are not using them for some time.
You can easily unfreeze the cards through the Wise app or website.
Utilize the Wise digital card
As mentioned earlier, use digital cards when you don't trust a business with your details.
You can use the Wise digital card to shop online, set up a subscription and spend with your digital card details.
Aware of the card expiry date
The international travel card has an expiry date. My card shall expire in 5 years.
But, do not worry because the Wise team shall notify you in advance and replacement for an expired card is free of charge.
What do I use the Wise card for?
These are what I use my Wise card for:
To access the USD in my Wise MCA account
As a content creator using Ezoic, a US-based advertising company, the Wise card allows me to easily access the USD payments I received from Ezoic.
I can use the international debit card to:
make cash MYR withdrawals from local ATMs
pay for my local purchases in Malaysia, without the need to convert the USD into MYR.
I not only save on the conversion rate and fees but also it is also hassle-free.
Other than Ezoic, I believe the card shall make it convenient to access returns or profits received from investments outside from Malaysia.
As Back up card
My Wise debit card also acts as a backup card for my everyday purchases.
In case my credit cards are not functioning, I feel safe knowing that still have the debit card.
For travelling abroad
I foresee the international travel card will be very helpful and useful when travelling abroad.
For example, I don't have to change the required paper currency in advance. This means I don't need to bring a large sum of money when travelling abroad.
And I can save money by converting the money I need through Wise's real exchange rate without markup.
Let's say I am travelling to Singapore. I can convert the MYR to SGD in advance and store the SGT in my Wise SGD Wallet. Or, I can swipe the travel card with the MYR balance in my Wise account.
The auto-convert feature shall convert the required amount from MYR to SGD. So I don't have to hold or keep large amounts of paper SGD currencies.
Overall, the card has been a great part of my money management tools.
Wise card FAQs for users in Malaysia
Below is a list of FAQs for Malaysian Wise card holders.
1. How long does a Wise card take to deliver to Malaysia?
The debit card takes approximately two weeks (sent from Singapore) to reach Wise users in Malaysia. I received my card on the 15th day.
If you have not received your card, do check the following:
Check the estimated card arrival time in your Wise account
Ensure the delivery address is correct
Give a few more days as the card is sent via the normal post
If you still have not received the card, you may consider contacting the Wise support team.
2. Is the Wise card a Visa or Master card for users based in Malaysia?
It is a Wise Visa card for me, and I ordered it in 2022.
Final thoughts
With the Wise card review above, I hope you are well-informed about the features, pros and cons of the unique international debit card.
If you need to deal with currency conversion (travelling abroad, receiving foreign payments, shopping online internationally), I trust the low-fee card with a real exchange rate shall offer you significant savings.
On top of that, you get to save time and enjoy the flexibility to be your own money changer using your digital devices.
Since it takes up to two weeks to receive the card, act early to order your Wise card today and experience the wonderful debit card yourself.
Image Credits
Featured image from Wise
All screenshots were taken by the author