This post is on the benefits of investing in robo-advisors.
This write-up is based on my experience using two automated investment advisors (StashAway and Kenanga Digital Investing). I'll also share the drawbacks of robo-advisors and personal tips to maximize investing through the digital investment platform.
Table of Contents
What is a robo-advisor?
Robo-advisor is a new investment method utilizing modern digital technology. Below are some features that differentiate robo-advisors from the conventional investment:
everything is completed online
the investment decision is based on data and computer algorithms (mathematical rules)
require moderate to minimal human intervention
As of the time of writing, these are robo-advisors registered under the Securities Commission of Malaysia (SC):
Akru Now Sdn. Bhd.
BH Global Fintech Solutions Sdn. Bhd.
GAX MD Sdn. Bhd. (MYTHEO)
Raiz Malaysia Sdn. Bhd.
StashAway Malaysia Sdn. Bhd.
UOB Asset Management (Malaysia) Berhad
Wahed Technologies Sdn. Bhd.
Kenanga Investment Bank Berhad (KDI Invest)
For the latest list, please refer to the SC website.
What are the benefits of investing in robo-advisors?
Below are 5 benefits of investing in robo-advisors.
1. Optimized returns
One of the main benefits of investing in robo-advisors is optimized returns.
Here are the reasons why robo-advisors have the potential to help you to achieve better investment returns.
Low-cost investing
Generally, most robo-advisors pricing in Malaysia is less than 1% per annum. For example, Akru's fees range from 0.2% to 0.7% per annum, depending on the account balance.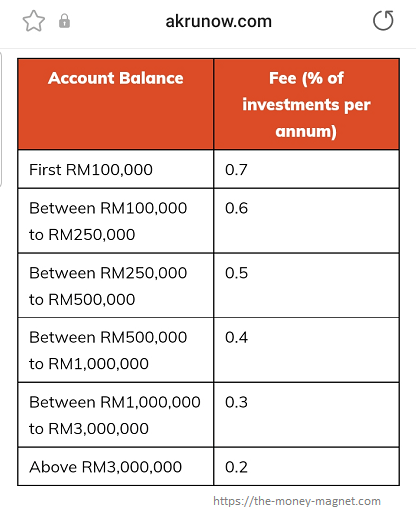 Some digital investment providers such as KDI Invest even offer a 0% management fee for investments of RM3,000 and below.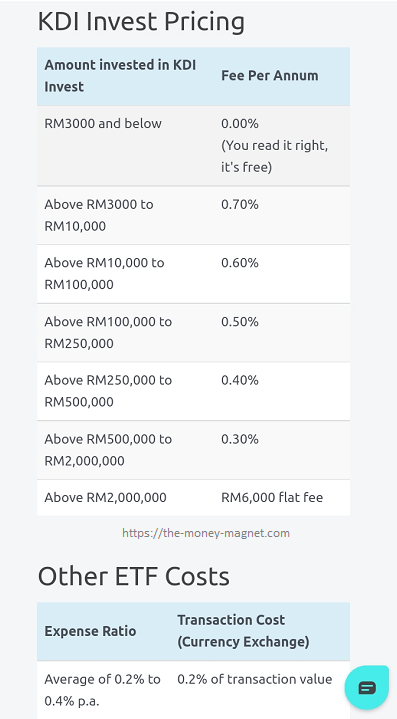 Even though some robo-advisors (such as StashAway, KDI Invest and Akru) have small Exchange Traded Funds (ETF) costs, when added up, these costs are still much lower compared to conventional investing.
Because for conventional investing, most likely you will need to pay for:
initial sales charges
annual management fees
trading commission
forex costs
trustee fees
withdrawal fees
switching fees
When you pay lower fees, more money goes into your investment. And In investment, every cent you save on fees has the potential to help you gain higher returns.
(You might be wondering why a robo-advisor can offer such reasonable fees. One of the reasons is that it involves less human intervention. So, the expensive cost of human labour is removed.)
Relatively low risk through diversification
Another reason why it is possible for you to earn a better return through robo-advisors is the diversification offered in its portfolio.
Most robo-advisors in Malaysia such as MYTHEO invest in a wide range of Exchange Traded Funds (ETFs), both developed and emerging markets depending on the investment platform.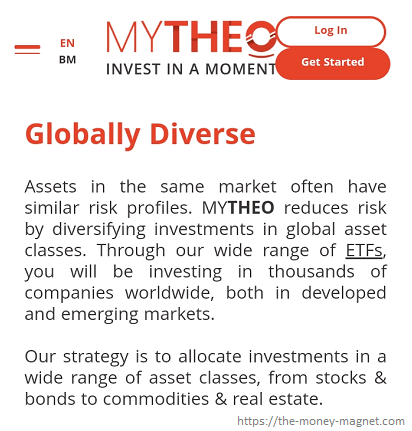 With ETFs, you are getting a lot of diversification by investing in a collection of reputable stocks.
So, when the eggs are not in one basket, you reduce your risk exposure and increase the possibility for better returns.
2. Time-saving
Another significant benefit of investing in robo-advisors is time-saving. The time-saving comes from multiple robo-advisor features as below.
Quick and easy onboarding
Digital onboarding means you save time from meeting with agents or advisors. It also means no filling in and signing on physical forms or other paperwork.
You just complete the signing up at the comfort of your favourite place, through your preferred digital device (mobile phone, tab, laptop or computer).
Generally, the registration process takes around 15 minutes if all the requirements (such as your NRIC and/or bank details) are readily available. Wahed mentions on its website that you can open an account in minutes.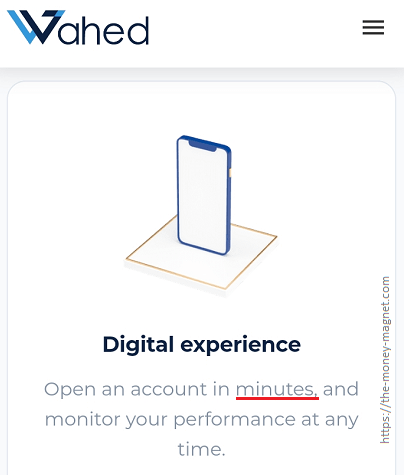 For me, the onboarding process took a bit longer, up to 30 minutes because I love to be extra careful and double-check the information I submitted during onboarding.
(The reasons? I am dealing with a machine, not a human. I know that all the figures I entered will determine my risk profile and portfolio allocations, thus my overall investment outcome.)
For some robo-advisors such as StashAway and KDI Invest, account activation is possible within the same working day. That is because the people behind the robo-advisors do not need to spend time entering your personal information. After all, you have done that yourself during registration.
Not only do investors save time, but digital investment companies also save time.
Convenient online deposit and withdrawal
You also save time by performing the below procedures online:
making deposits
making withdrawals
setting up auto-invest
Require minimal monitoring
The deployment of artificial intelligence (A.I.) driven technology by a robo-advisor means your investment requires minimal monitoring. The A.I. algorithm also works round the clock taking care of your portfolio needs.
Personally, I still monitor my robo-advisor investments at least once a week. Mainly to check on the performance and if there's an opportunity to top-up more funds.
Compared to investing on your own, you'll need to:
spend time and money to learn investing skills
spend time monitoring your investment
tackle your emotions when making investment decisions, which can be a challenging task
When you don't have to monitor the investment yourself, you save your precious time.
3. Anyone can start investing anytime
Another advantage of investing in robo-advisors is that anyone can start investing, as long as you are 18 years old. Some platforms such as Raiz allow you to start investing in your kids through Raiz kids.
Robo-advisors make it possible for anyone to start investing through the features below.
Investing without investing knowledge and skills
You can start investing in robo-advisors even if you are new to investing. Although basic investing knowledge would be helpful, it is not necessary. Because the AI-driven algorithm will do all the investment decisions for you.
The onboarding process is guided with proper explanation throughout the whole process. Furthermore, you can always read up the details such as Frequently Ask Questions (FAQs) and investment articles from the platform itself.
As for me, I do read up on the details and explore its platform before signing up for a robo-advisor. I enjoy self-learning. And I find that it is very helpful and had guided me along my investing journey.
Require minimal initial investment
Some robo-advisors such as StashAway and Akru allow you to start investing with any amount you feel comfortable with.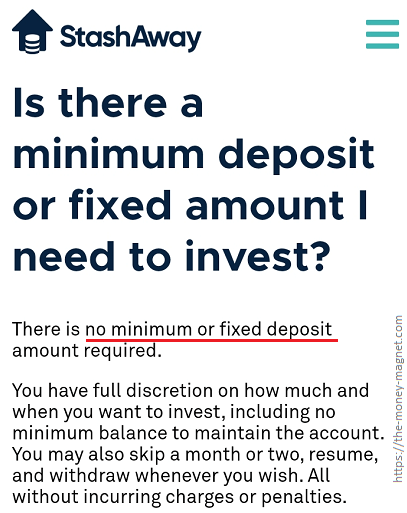 Other platforms require a minimum deposit such as RM100 (Wahed Invest and MYTHEO) or RM250 (KDI Invest).
But, these minimum initial investments are very affordable compared to conventional investments which usually require thousands of Ringgit.
Thus, any adult can easily start investing using robo-advisors.
4. Having peace of mind
Other benefits of investing in robo-advisors include having peace of mind. Below are the reasons why investing through the digital platform can promote peace of mind.
Auto re-balancing and re-optimisation
Generally, robo-advisors run automatical portfolio re-optimisation and rebalancing when necessary. This is to make sure the portfolio is within the recommended allocation and keep the risk profile constant.
All this is done by the algorithm.
The A.I. technology behind the algorithm also works around the clock, checking and updating the data with the latest performance to maximize the potential of your investment.
This means, if you prefer, you can make a deposit and let the algorithm maximize the returns. Otherwise, I would suggest occasionally logging in and checking the performance of your portfolio. After all, it is your money, your investment.
Come with security and protection
Robo-advisors in Malaysia are required to obtain approval from SC before they can start operating in the country.
For example, StashAway, the first robo-advisor in Malaysia stated clearly on their website that they are licensed by SC.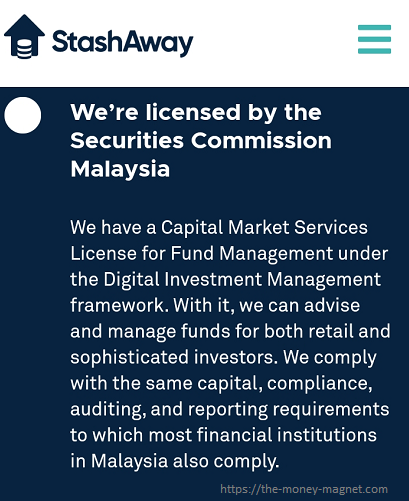 So, your funds are managed according to SC guidelines.
One of the guidelines is to engage an SC-licensed trustee that provides custodial services for investor deposits. This means your money shall be kept separately and safely in an SC-licenced trust account.
MYTHEO, another SC licenced robo-advisor also stated clearly on their website that investors' money and assets are held by their custodians.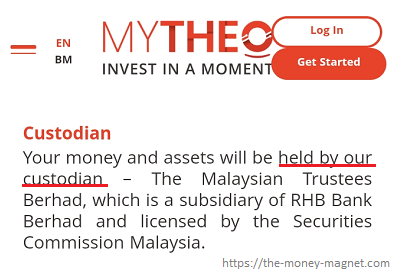 You can read more about the digital guidelines(pdf) on the SC website.
In terms of infrastructure, robo-advisor platforms such as StashAway mentions using multi-layered defence mechanisms to prevent cyber attacks as one of their security measures.
Another robo-advisor, Wahed Invest implements data encryption as one of their security measures to make sure your investment is safe.
You can make a withdrawal anytime
Just in case you are in a financial emergency, you can make withdrawals from your investment in robo-advisors at any time. There's no lock-in period.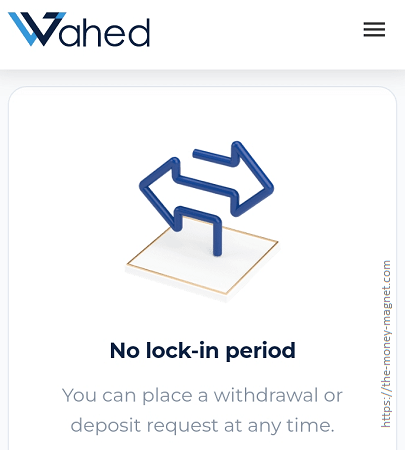 Although it might require a few working days before the money is available in your bank account, at least you still have access to your money when you need it most.
At the moment, I can't say I have 100% peace of mind about my robo-advisor investments. That is because I know every investment involves risks. But, so far I am happy that robo-advisor takes away a majority of negative emotions in investing.
5. Offer personalized investing
Lastly, robo-advisors are offering personalized investing. This simply means your portfolio is most likely different from my portfolio.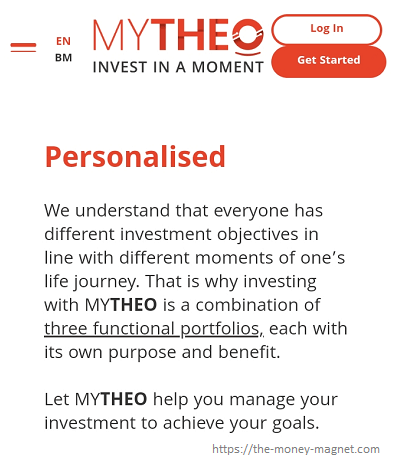 That is because the robo-advisor algorithm designed your portfolio based on the details and data you entered during onboarding.
Some of these data include:
current financial information (salary, net worth)
investment goals (saving for retirement, child's education)
investment horizon (how many years you plan to invest)
risk preferences level (low risk, moderate risk, high risk)
Thus you have a personalized portfolio based on your details, personal preferences and investing appetite.
Since every investor's situation is different, each portfolio is tailored according to the investor's unique situation to achieve the investor's financial goals.
What are the drawbacks of investing in robo-advisors?
Throughout my experience using robo-advisors, I've also come across a few disadvantages of using the platforms.
1. No (human) financial advisor
Unlike conventional investment where usually you have a financial advisor to help you along your investment journey, there is no financial advisor when you invest using robo-advisors.
If you prefer human financial advisors (and are willing to pay for their service), most probably you'll find the digital investment platform frustrating.
However, if you enjoy self-learning (like me), you'll find that you gain investing knowledge as you explore digital platforms.
Among those sections which I find helpful on robo-advisors platforms are:
Frequently Asked Questions (FAQs)
knowledge base
blogs or articles on investing
Generally, all of the robo-advisors have a customer service or customer support team. If you wish, you can still contact them for assistance.
Hopefully, soon there will be a hybrid robo-advisor (robo-advisor with options for a human investment advisor) in Malaysia.
2. You can't choose the ETFs or funds
Your robo-advisor portfolio is generated by the algorithm based on the personal details and preferences you entered when signing up.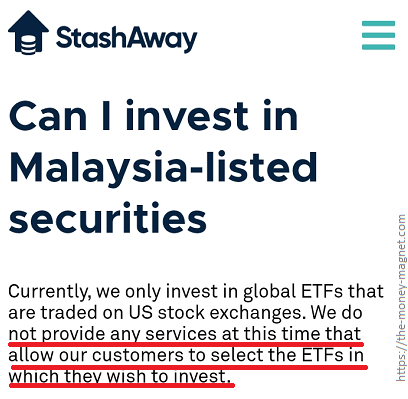 So, you can't pick and choose which ETFs or funds to invest in.
3. Must be comfortable with technology
Although any adult who knows how to use a smartphone or computer should be able to start their robo-advisor investment journey, some might feel uncomfortable doing so.
It could be due to:
technophobia (having fear or dislike of new technology)
required a basic IT knowledge
don't trust the digital world
Thus, those who are not comfortable with technology might find it difficult to invest through robo-advisors.
4. Language barrier
Most digital investment platforms in Malaysia are using English mediums while some are also available in Bahasa Melayu and Mandarin.
Since investors on robo-advisors are required to complete the onboarding and investing on their own, the language offered on the platform is highly important.
I know of people who would love to try out the robo-advisor platform but are reluctant to do so because he is more comfortable in Mandarin while the language on the platform is English. He can get help from those around him to complete the process and make the deposit but he prefers not to because this is personal finance.
Although he can use the 'translate function' on some browsers, sometimes the feature can be unhelpful. Compared to a conventional platform, he can rely on his financial advisor for all the processes.
Thus, it would be great if robo-advisors companies can include major local languages in the platform to help investors start investing comfortably.
How to maximize the benefits of investing in robo-advisors?
Here are my tips to make the most of your investments in robo-advisor.
1. Choose a licenced robo-advisor
In Malaysia, make sure you invest with a robo-advisor that is regulated by the Securities Commission of Malaysia (SC).
You can refer to the list of robo-advisor on the SC website, under Digital Investment Manager (DIM).
2. Invest for long term
For optimized performance, it is best to invest in robo-advisors for the long term.
Some say the long term is more than 1 year, others say the long term is longer than 3 years or even a decade. Everyone has his or her unique definition of long-term investment.
As for me, my long term is at least 3 years.
When you hold your investment for a longer time, you have better opportunities:
to ride out the market ups and downs
for compounding to work
So, start investing early and give your investment sufficient time to grow.
3. Utilize the referral program
Most robo-advisors in Malaysia come with a referral program a.k.a Refer-A-Friend program.
This is where each customer is assigned a referral code or referral link. When you sign up through an existing customer's referral code or referral link, you get to enjoy certain benefits, depending on the robo-advisor provider.
Below is my referral link for StashAway and KDI Invest:
Similarly, when your friend sign-up using your referral code or referral link, both of you get to enjoy the benefits as well.
As every cent you save or put into the investment matter, over the long run, the referral program has the potential to give you better returns.
Final thoughts
With the above sharing, I hope you are aware of the benefits and drawbacks of investing in robo-advisors.
Personally, I believe robo-advisor offers a good alternative for ordinary investors who wish to start investing and get the most from their hard-earned money through automation at a minimal cost.
If you are planning to try out investing in robo-advisors, get a good start by signing up through my StashAway promo code or my KDI referral code.
Any other robo-advisor benefits or drawbacks that I missed out on? Feel free to comment below.
Image Credits
Featured Image by kiquebg from Pixabay
All screenshots were taken by the author