This post is about my StashAway Malaysia review.
I started investing in the Robo-advisor in 2019. In this StashAway Malaysia review, I will share my experience using the digital platform including:
Since this is a long post, please refer to the table of contents below to help you to navigate around.
Table of Contents
[Disclaimer: I am not a certified financial planner. My sharing is purely based on my own research and personal experience. To make the best financial decision that suits your own needs, you must conduct your own research and seek the advice of a certified financial planner if necessary]
Who is StashAway Malaysia?
StashAway Malaysia is a Singapore-based Robo-advisor that has received the green light from the Malaysia Securities Commission to offer its service in Malaysia since 2018.
Compared with traditional investment services, I learned that there are many advantages to investing in a Robo-advisor. I'll share more about this later, under why I invest in the platform.
If you are new to robo-advisor, you might be wondering what is robo-advisor.
The below definition from Wikipedia is quite helpful:
Robo-advisors or robo-advisers are a class of financial adviser that provide financial advice or investment management online with moderate to minimal human intervention. They provide digital financial advice based on mathematical rules or algorithms…

Wikipedia
In other words, a Robo-advisor is an online automated investment service, that mostly relies on computer-implemented instructions and digital data, with less intervention from human financial advisors.
How to start investing in StashAway Malaysia?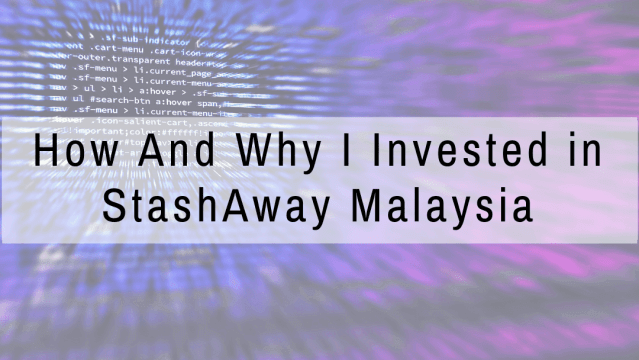 For the first part of my StashAway Malaysia review, I will be sharing the exact step-by-step I used when I start investing in the platform.
1. Register yourself at StashAway Malaysia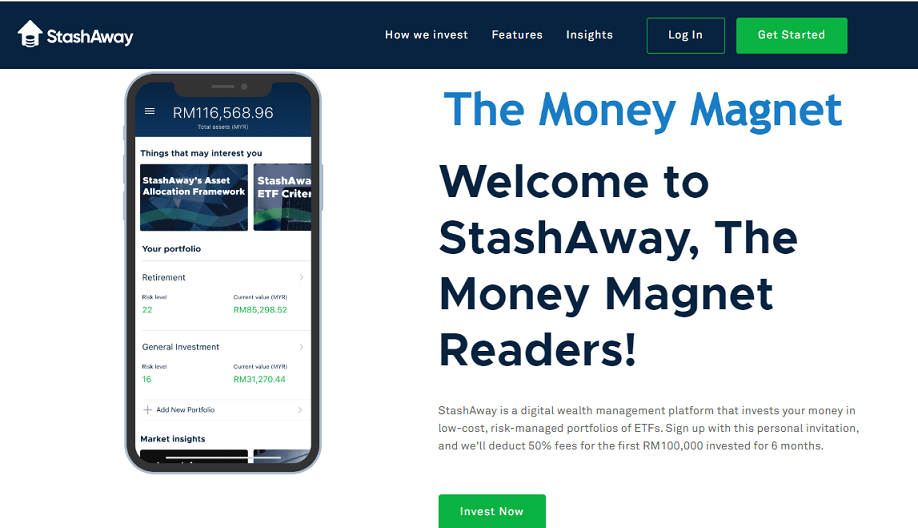 First, register yourself at StashAway Malaysia by signing up using my promo code that's attached to my StashAway referral link (you get 50% discounted fees for the first RM100,000 invested for 6 months).
2. Verification of email address
Once you have entered your email address and password, a verification email is sent to your email address.
You should verify your email address before you move on further.
3. On-boarding message by StashAway Malaysia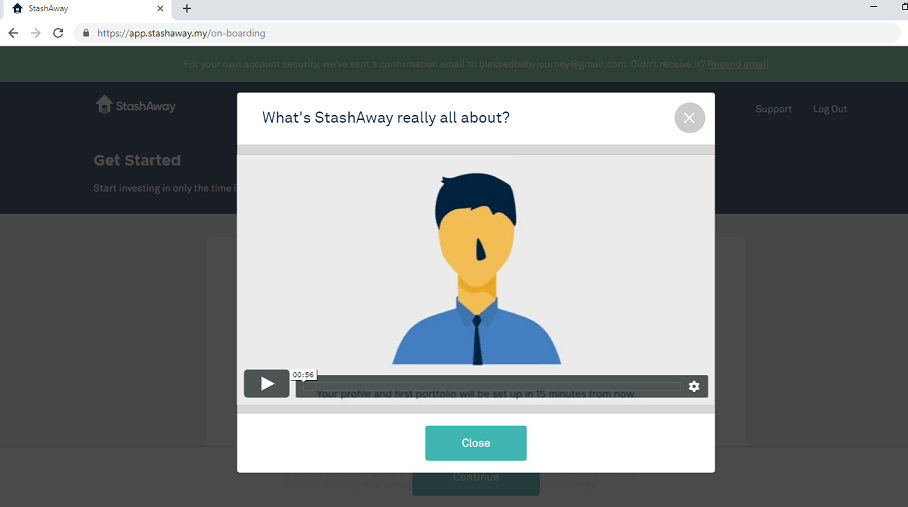 Next, you'll see a welcome message as shown above. This is where you can learn what is StashAway really all about.
I strongly recommend you watch the video so that you know the Robo-advisor better.
After all, successful investing is knowing what you are investing in!
4. Creating your first StashAway portfolio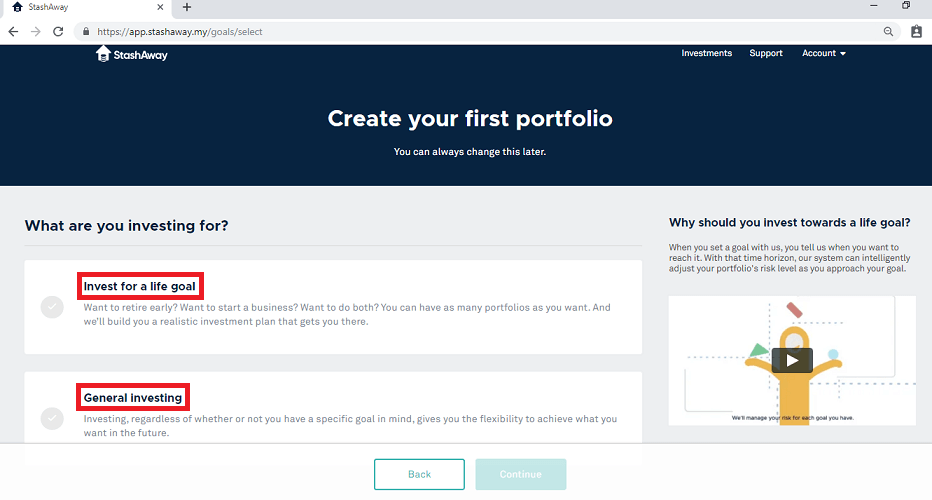 This is followed by creating your first portfolio. For portfolio creation, you can choose to invest with a life goal or general investing.
The samples below show an example of investing with a life goal option.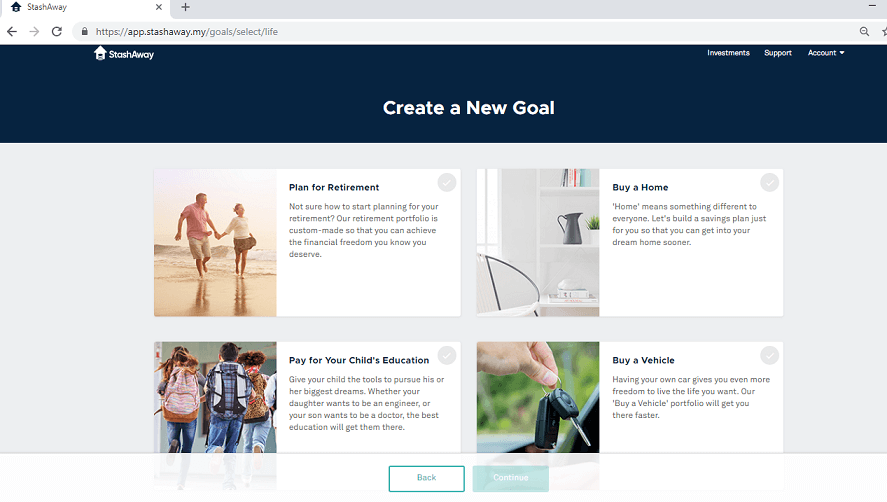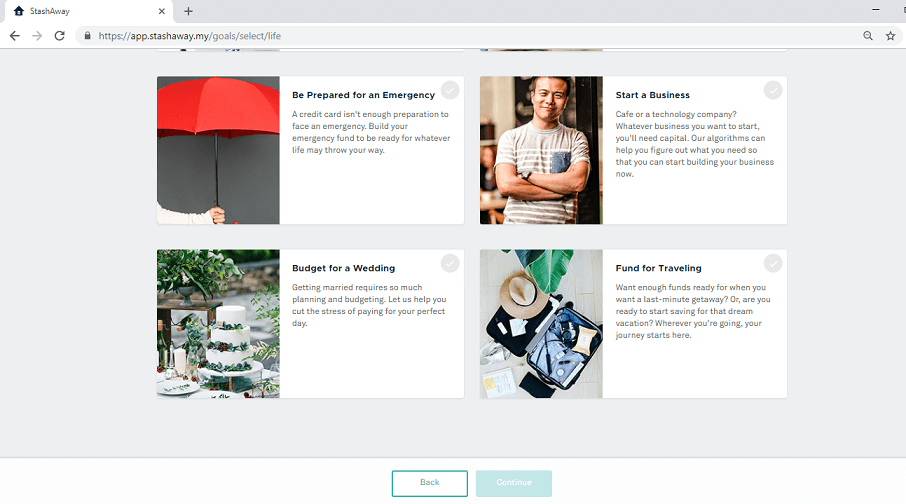 As for me, I choose general investing for my first portfolio.
Thus, I will need to tell the Robo-advisor my risk appetite as below: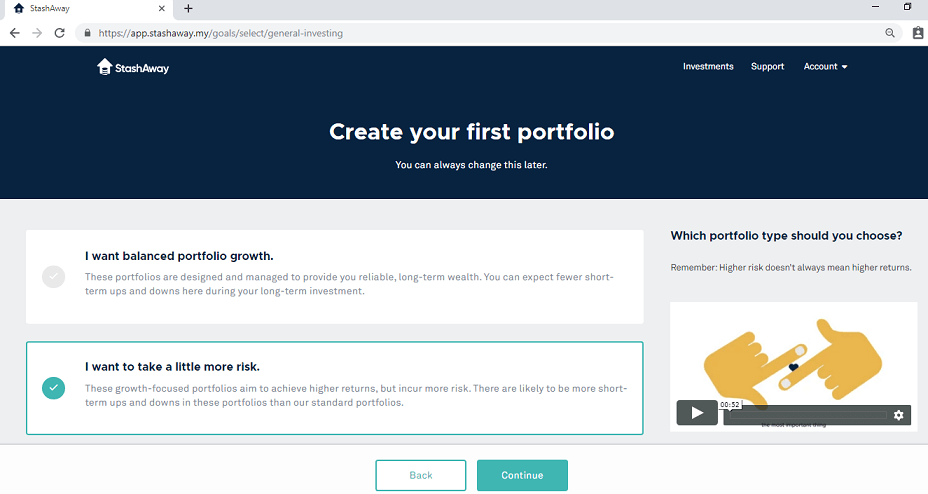 StashAway will share a sample of the Portfolio Projection based on the information we entered earlier.
Such as the amount of initial investment and subsequent deposits (if any).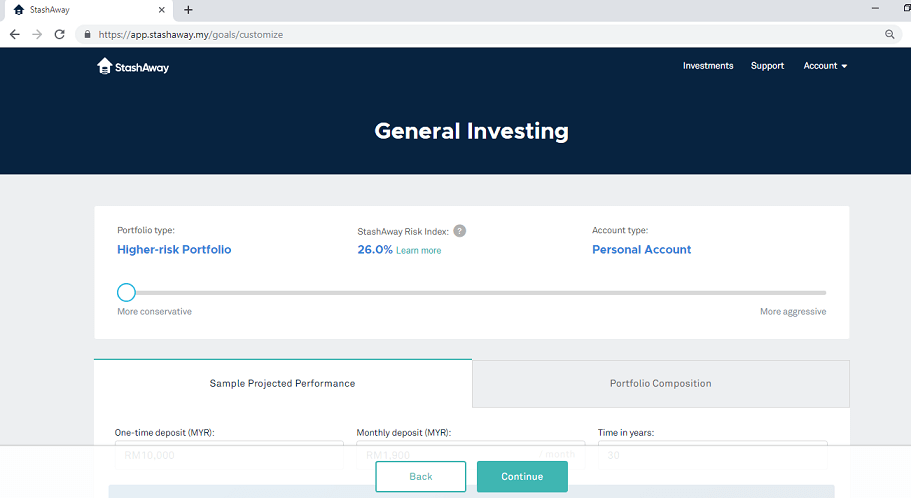 For your information, you are free to change and edit the portfolio from time to time.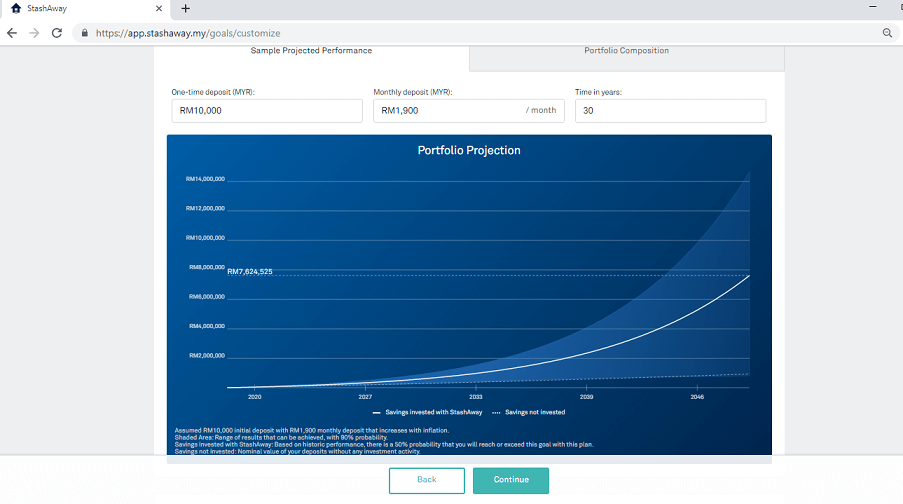 Towards the end of the portfolio creation, you are required to give the goal a unique name.
As you move on, the unique name will make it easier for you to differentiate and monitor your goals. Especially when you have many financial goals.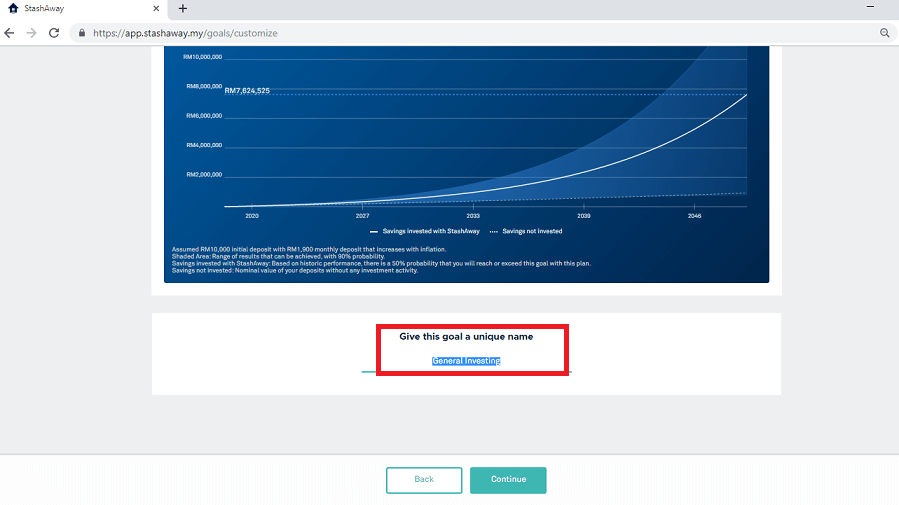 As for my first portfolio, I named it My First StashAway.
5. Setting up the StashAway Malaysia account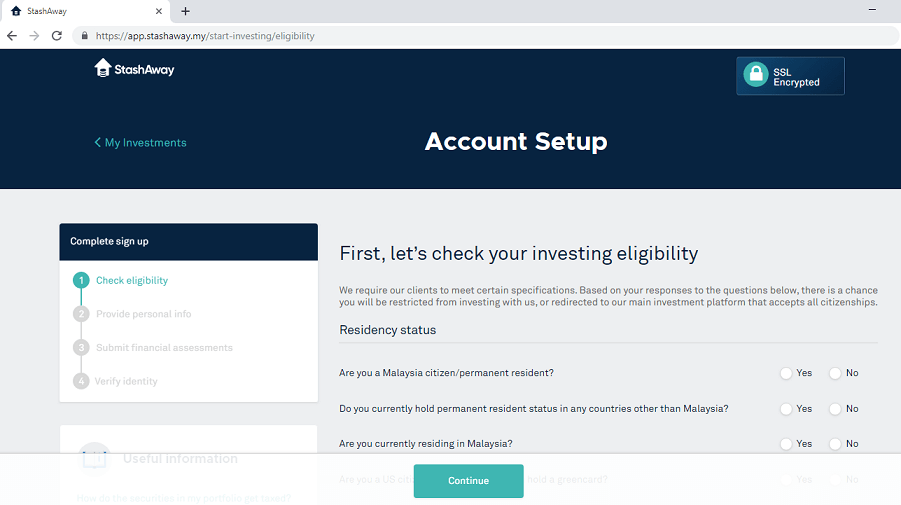 Then, the next step would be setting up your StashAway Malaysia account by checking your investing eligibility. Yes, not everyone is eligible to invest in the digital platform.
For investing eligibility checking, StashAway requires you to answer several questions.
Some of the eligibility questions are as below: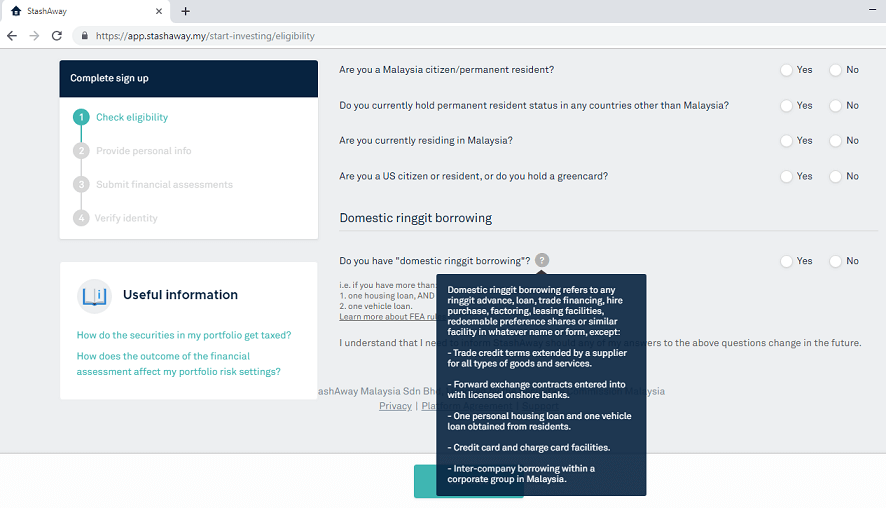 As shown above, do take note to choose correctly for the Domestic Ringgit Borrowing part. For Malaysian having two or more auto loans or home loans, you are not eligible to invest in the platform.
If you wish to know more about Domestic Ringgit Borrowing, you may contact StashAway Malaysia directly for further details.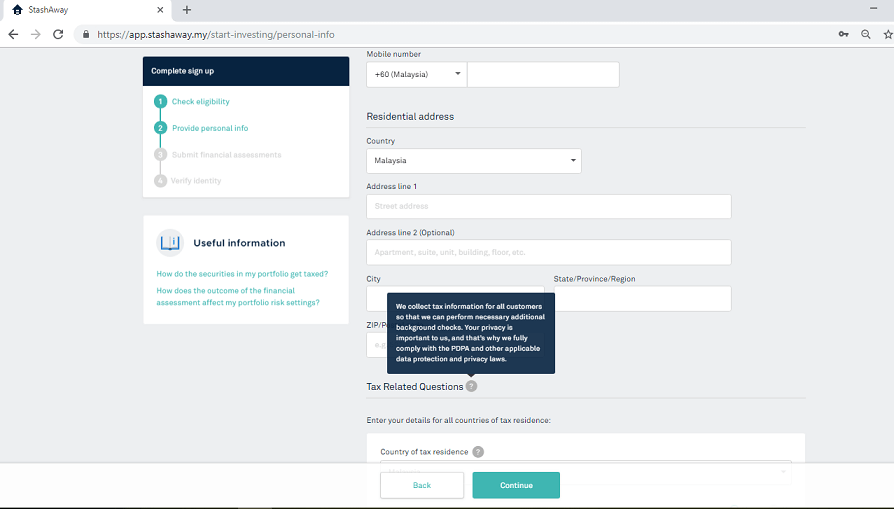 Do enter your Malaysia Income Tax number too.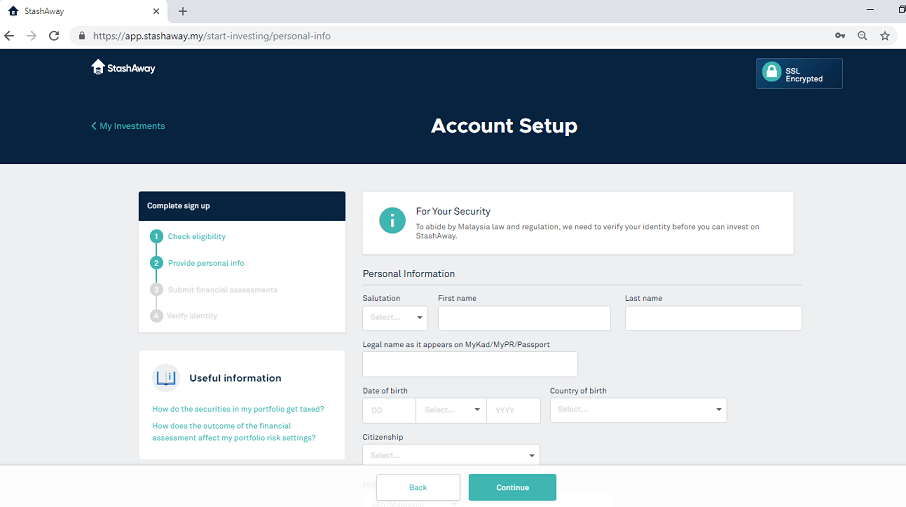 Then, you are required to enter your personal information followed by your financial information.
Among the financial information asked are the amount of your savings in your EPF, PRS, fixed deposits, and unit trust. Although this information is optional, it is important to provide accurate information for more desirable investment results.
6. Submitting your documents for verification
For account opening purposes, you are required to upload a copy of the following documents:
NRIC with front and back
Another proof of resident with a utility invoice
As for proof of residence, you only need to submit it if the address during signing up is different from your NRIC.
But, do not worry because the StashAway team will contact you if they need further details about the documents.
In my case, my NRIC picture is slightly unclear. The support team contacted me a few hours after I uploaded my documents.
When I sent them a new document, they immediately responded and processed my application.
7. StashAway Malaysia Account Opening Agreement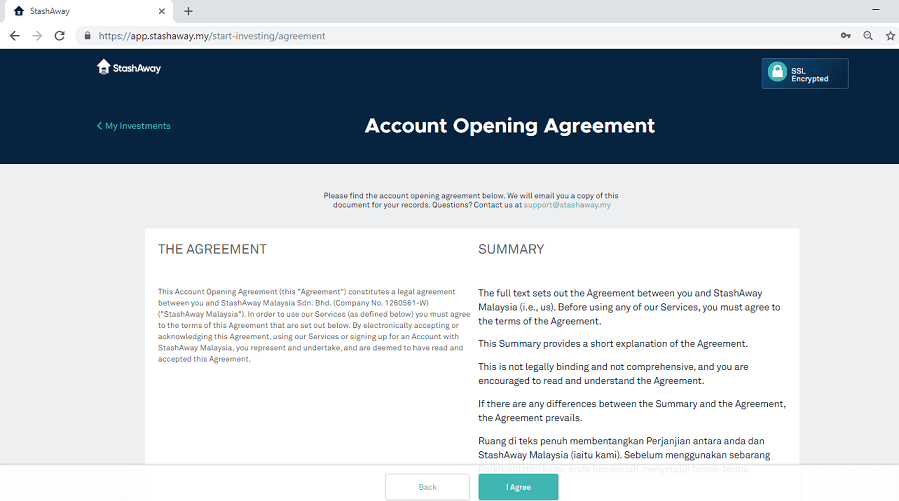 Upon successfully uploading your personal documents, you will be able to see the Account Opening Agreement.
Their support team will also send a copy of the Account Opening Agreement to your email for your records.
8. StashAway account verification
Once they have successfully gone through and completed your account verification, they will send you an account verification email.
Then, you can transfer funds and start your StashAway investment.
9. How I transferred funds to StashAway Malaysia?
First of all, before you transfer funds to StashAway Malaysia, do make sure you have set up your portfolio.
As mentioned above, you can either invest with a life goal or in general investing.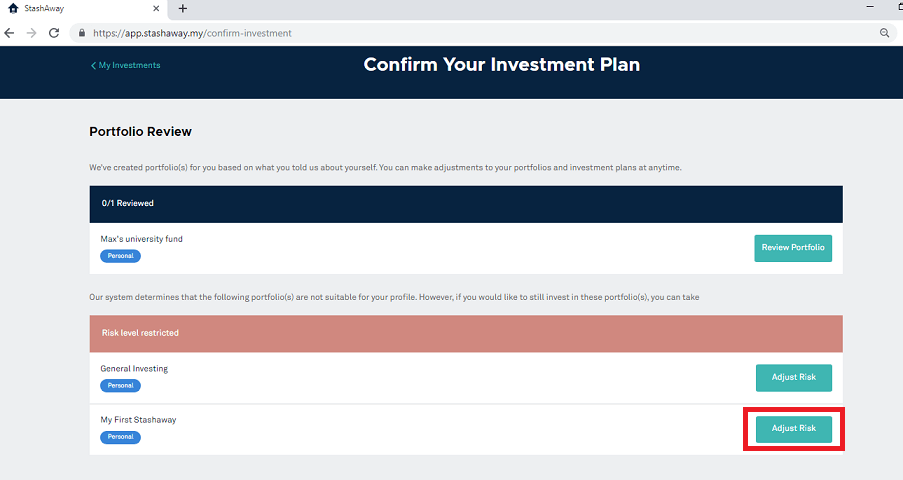 As shared earlier, my first portfolio is on general investing with the name My First StashAway.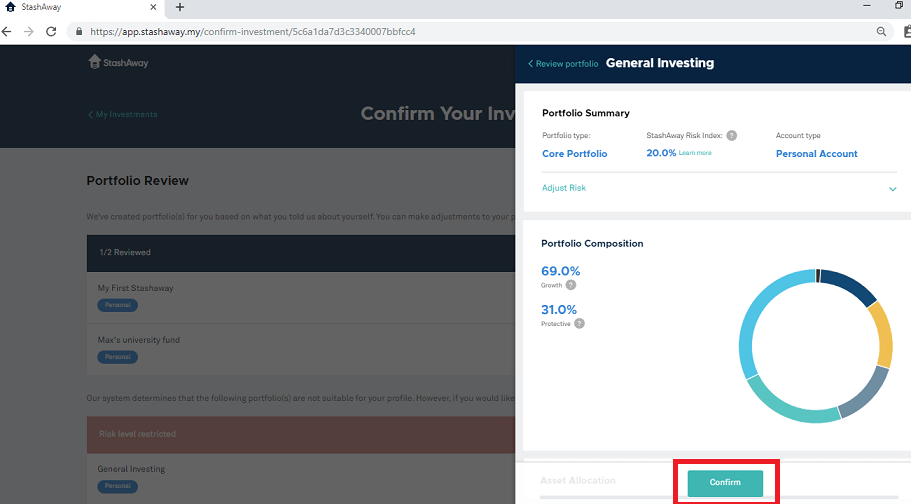 Aside from that, you will need to adjust, review and confirm your portfolio too.
Once you've reviewed and confirmed your investment goal, the status will be updated to 'Reviewed'.
Depositing to my StashAway account
Next, I will share how I made my first fund transfer to the platform.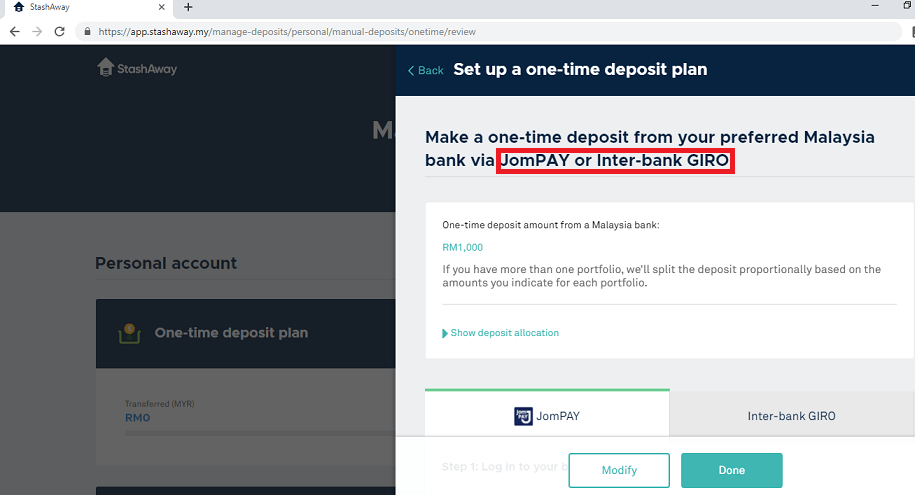 At the time of writing, there are two options to transfer funds to the platform:
via JomPAY
via Inter-Bank GIRO (IBG)
I used JomPAY as it is easier and less hassle with fewer steps needed.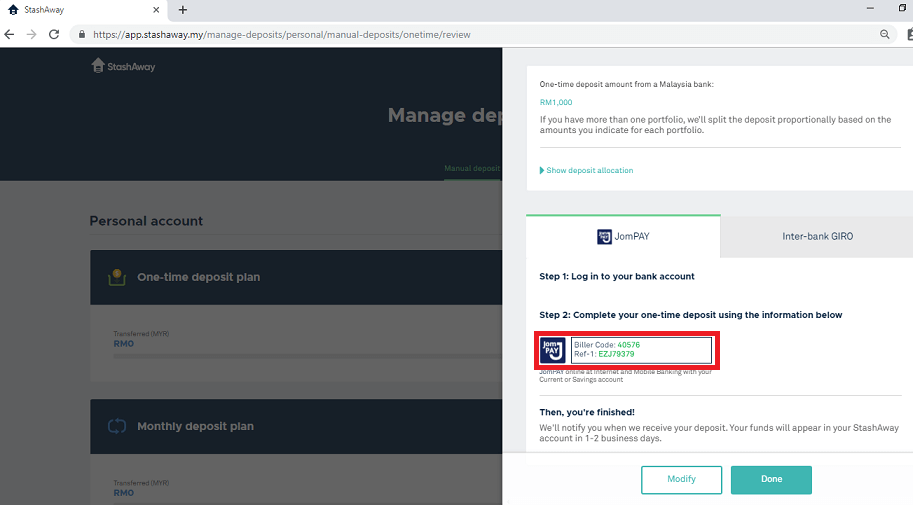 All I need is the Biller Code and the unique Ref-1. This is stated clearly in my StashAway's deposit instructions as shown above.
And do take note that Ref-1 is a piece of very important information. The Ref-1 is to ensure the fund will be transferred to your StashAway account accordingly. So, remember to use your own Ref-1 based on your deposit instruction.
Once I had the Biller Code and the Ref-1, I logged in to my Public Bank online. Within a few minutes, I successfully transferred my first fund through JomPAY.
I share the print screen of my JomPAY via Public Bank online as below.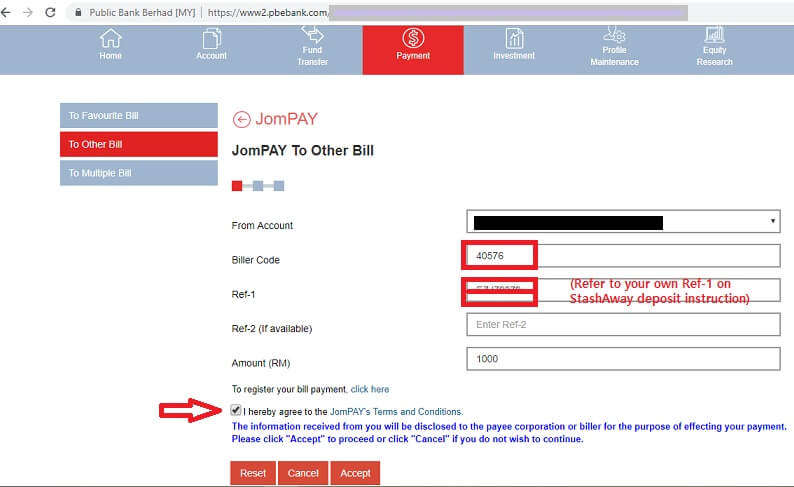 Just make sure you enter the accurate JomPAY Biller Code and Ref-1 based on your own StashAway deposit instruction when you make the fund transfer.
10. Confirmation on fund received by StashAway Malaysia
Within si working hours of transferring my fund, the StashAway team sent me a confirmation email on the fund received.
When I logged in to my StashAway account, I had yet to see the fund in my portfolio. This is because they require one to two working days for the process of investing in my fund.
I shared the confirmation message below.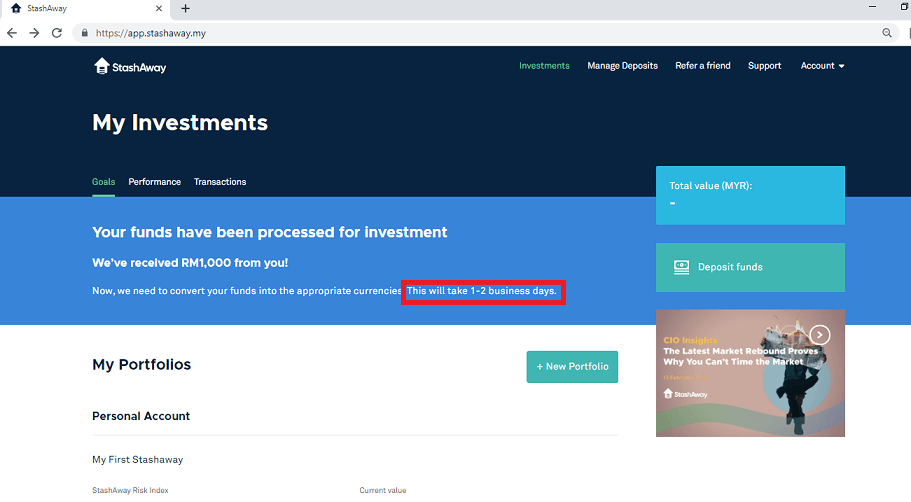 11. Fund processed by StashAway Malaysia
Exactly two days after receiving my funds, I started to see my transactions in my StashAway account.
Here is the print screen showing the summary of the transaction: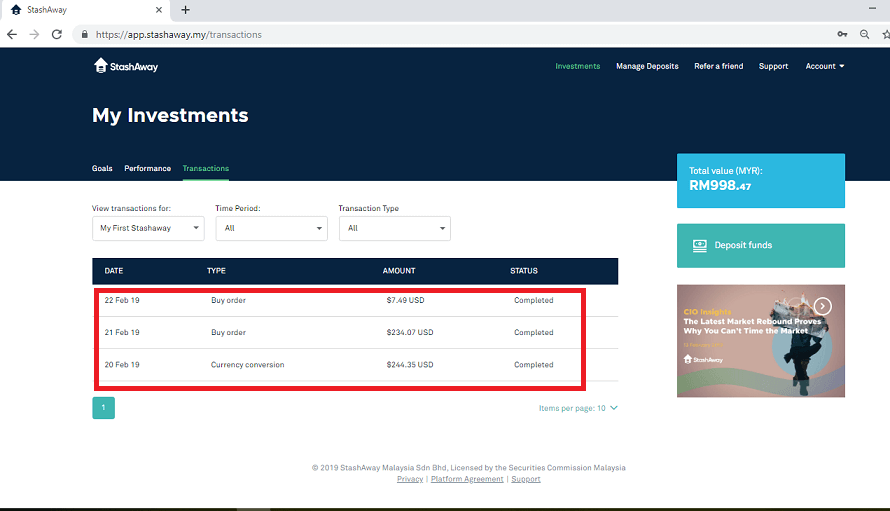 When I click on the transaction summary, I can see the details of my investment below.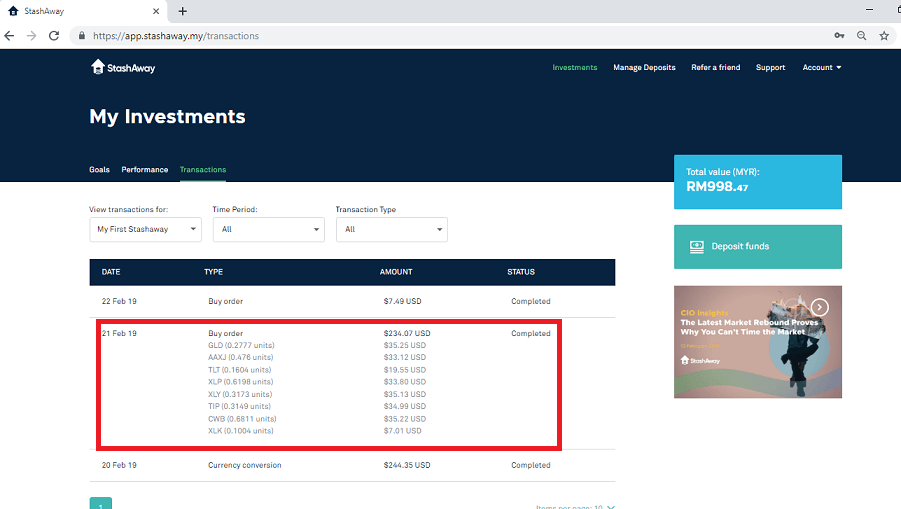 Next, read further below on the nine reasons why I invested in the Robo-advisory platform.
9 reasons why I invested in StashAway Malaysia
For the second part of this StashAway Malaysia review, I'll share the 9 reasons why I invested in the platform.
1. StashAway is a registered Robo-advisor in Malaysia
The main reason why I invested in StashAway is that it is approved by the Malaysia Securities Commission (SC). This means all their activities and services must comply with SC requirements.
As an investor, I feel more comfortable and protected when liaising with an SC-approved entity.
2. Affordable investment opportunity
The second reason why I decided to invest in the Robo-advisor is because of its affordable investment opportunity including the following:
i. Low investment fees
At the time of writing, its annual management fee is between 0.2% to 0.8% p.a.
The pricing structure of its annual management fee is as below: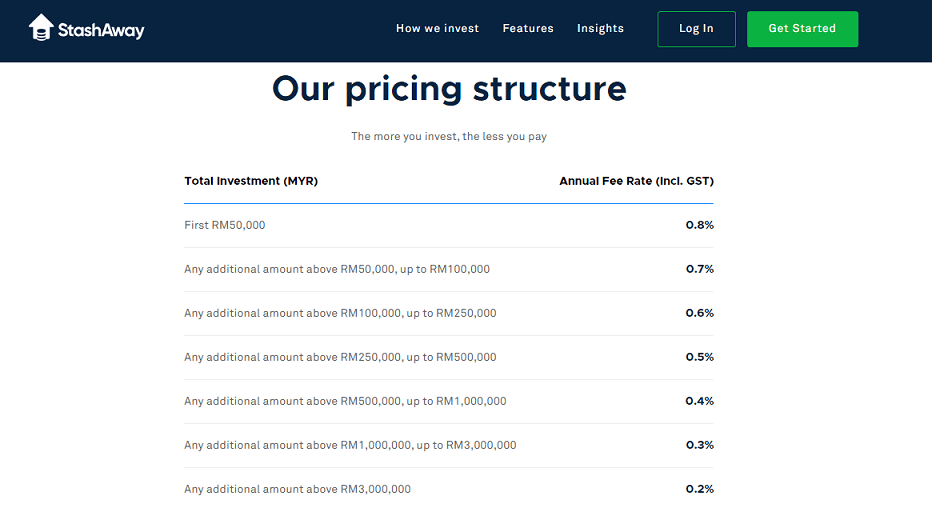 If you have been investing for some time, you'll agree when I said high sales charges and investment fees can eat into your return on investment. Especially for long-term investment.
For that, you may refer to the illustration below on the difference between the return on investment from StashAway (lower fees) and unit trust (higher fees).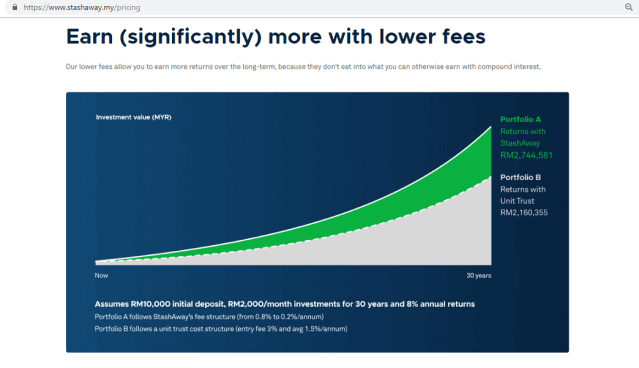 From the illustration above, it is clear that fees affect the returns of the investment.
Besides the annual management fees, other fees include:
The currency conversion fee of 0.1% (on-the-spot rate) is charged by the brokers for Ringgit deposits.
The fees charged by the Exchange Traded Fund (ETF) manager of approximately 0.2% per annum.
On a side note, investors can save on annual management fees by signing up through my StashAway referral link, which I'll explain further below.
ii. No minimum investment
There is no minimum amount required to start your investment in the digital platform. This means you can start to transfer any amount you feel comfortable trying out the service.
As for me, I started with RM1,000. Four months later, I redeemed one of my unit trust investments and topped up another RM4,000 to my StashAway portfolio.
The Robo-advisor platform also does not charge for the item below:
Signing up and opening an account.
Withdrawals.
Transferring money in and out of your account
Closing of an account.
And the minimum balance is RM0.
3. Intelligent management decision system to maximize my investment
StashAway is using Economic Regime-based Asset Allocation™ or ERAA™. In which it automatically responds to economic conditions to maximize the returns according to my risk levels.
Personally, this is a plus point. Because I believe in better decision-making results from logical data interpretation instead of being based on human emotions for things related to investment.
Similar to StashAway, I strongly believe that we all have different investment goals and different risk appetites.
Instead of following a general investment decision for all, ERAA™ provides me with a personalized investment decision based on my personal risk levels.
This also means I get to control my investment instead of just getting along with the crowd.
4. Highly secure
Besides SC approval, the platform also required its user to set up two-factor authentication (2FA) when the user signed up.
Whenever I log in from a new device, 2FA will require me to enter a One-Time-Password (OTP). This OTP was sent via SMS to my registered mobile number.
For the above reason, I consider my investments safe.
5. The easy and convenient onboarding process
Since it is a digital platform, it is easy and convenient to sign-up and starts my investment anytime anywhere, as long as I have an internet connection.
The digital platform also allows me to do other transactions and account monitoring online as well.
6. Diversify my portfolio
I see StashAway as a way for me to diversify my portfolio.
The Robo-advisory platform allows me to start investing globally with minimal fees in a wide range of Exchange Traded Funds (ETFs).
Instead of having to get ready thousands of Malaysian Ringgit to start investing outside of Malaysia, I can invest an affordable amount through the platform.
Therefore, I can diversify my portfolio with an affordable startup.
7. Various investment options
The digital platform first started with general investing powered by StashAway. Then, it also starts offering various investment options such as:
StashAway Simple™ – cash management with a stable return.
Thematic portfolios – invest in a collection of a specific theme that you believe will change the world.
Responsible Investing with ESG – offer Environmental, Social and Governance (ESG) Investing that creates a positive impact on the world.
Flexible Portfolios – allow you to create your own portfolio.
General Investing powered by BlackRock® – capture long-term returns through one of the world's largest asset managers, BlackRock.
With various investment options available, I can always further diversify my portfolios.
8. Prompt and reliable human support team
Although I am a strong supporter of using digital technology, I still think it is important not to leave out the human touch. Especially, in terms of customer support.
So far, I am happy with the prompt and reliable support provided by the StashAway support team. Usually, they reply to my inquiries within hours during the weekdays.
9. Provide personal finance learning resources
As a personal finance blogger, I found out that the StashAway website provides a lot of useful information on personal finance.
The portal offers plenty of expert insights, free online investing courses, and well-researched investment articles.
I trust you will gain important financial management knowledge from the portal, especially if you are new to personal finance.
StashAway performance
As mentioned earlier, I tried out StashAway general investing with just RM1,000 in early 2019. Three months later, I saw encouraging returns. So, I made an additional investment of RM4,000 to the Robo-advisor platform.
This means, my total deposit with StashAway general investing is RM5,000.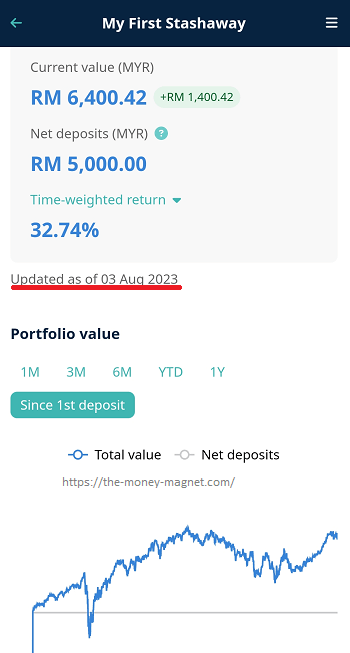 The screenshot above shows my latest StashAway performance since my first deposit.
As you can see from the latest StashAway performance above, there are ups and downs over the past four years. Currently, the total return is RM1,400.42.
I shall update my StashAway performance review from time to time so that you can have a look at StashAway past performance. From there, you can decide whether StashAway fits into your investment portfolio.
StashAway promo code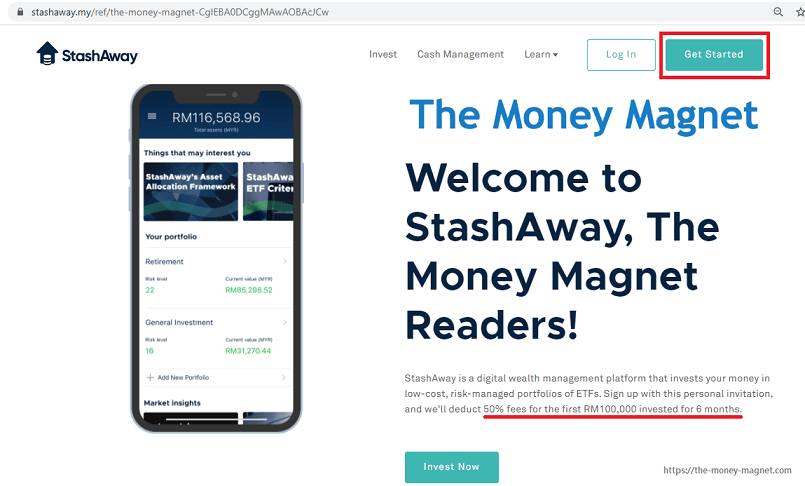 In collaboration with StashAway Malaysia, we came up with a special offer for The Money Magnet readers. The special offer is through a promo code tagged to my StashAway referral link.
Through this promotion, investors who sign-up and invest via my referral link shall get 50% fees deducted for the first RM100,000 invested for 6 months.
To enjoy the discounted fees, make sure you take note of the following:
You must register through my StashAway referral link;
You must not have an existing StashAway account;
Your need to transfer funds (any amount) to your account within 30 days of registration
Please do remember to start your investment by transferring any amount within 30 days of registration. Else, the offer will expire and you will not be able to enjoy the discounted fees.
As for me, when you sign up through my StashAway referral link, I'll receive a small token at no extra cost to you.
StashAway Refer-A-Friend program
If you want to continue to enjoy discounted fees for your StashAway investment, you may take advantage of the StashAway Refer-A-Friend program.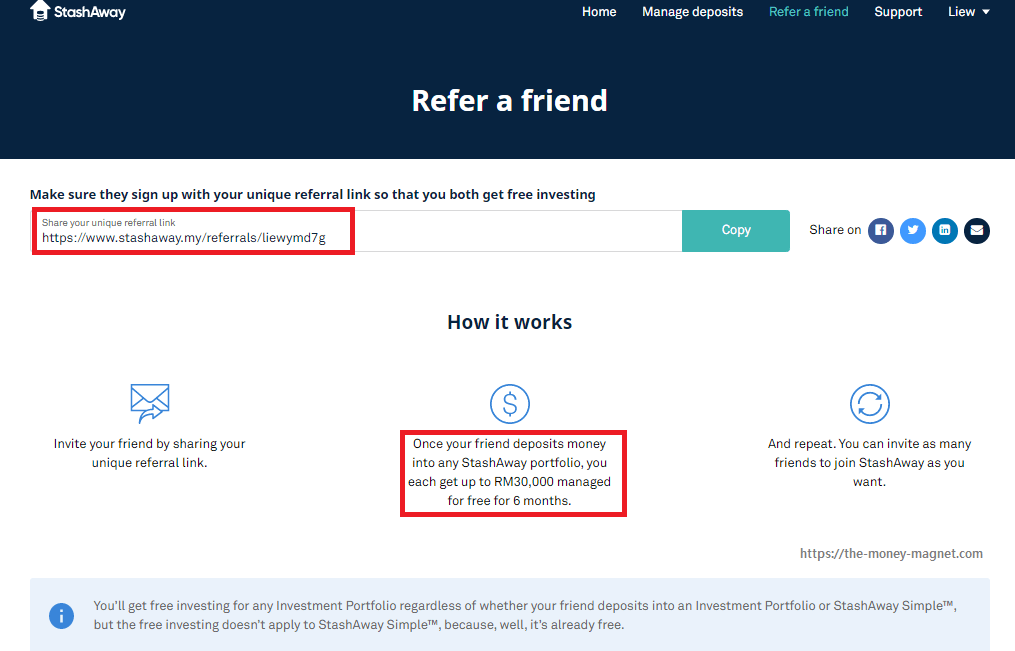 Through the StashAway Refer-A-Friend program, each investor is assigned a unique StashAway promo link. When your friends or family sign up through your unique promo link, both of you are entitled to a 6-months management fee waiver of up to RM30,000 for the asset under management.
The fee waiver takes effect after your friend or family deposits any amount to their newly created StashAway account within 30 days.
Can Singaporean register through my StashAway referral link?
Singaporean readers who wish to invest in StashAway Singapore can also use my referral links above. But, Singaporean readers will need to provide StashAway Singapore with the details below:
The email address you use to register for StashAway
My referral link that you use for StashAway registration
Apologize for the inconvenience caused. But, additional steps are needed due to the two different platforms. Upon receiving your request, the StashAway team will manually apply the referral for both of us.
My StashAway Malaysia review FAQs
Through this StashAway Malaysia review, I'll also include some frequently asked questions (FAQs) about the Robo-advisory platform.
Q1. What is the minimum age to sign-up StashAway Malaysia?
The minimum age to open a StashAway Malaysia account is 18 years old.
Q2. Is StashAway legal in Malaysia?
StashAway Malaysia is regulated by the Securities Commission Malaysia (SC).
Q3. Is StashAway Malaysia protected by PIDM?
No, investment with StashAway Malaysia is not eligible for PIDM protection. This is similar to the unit trust investment by Unit Trust Management Companies in Malaysia.
Q4. Is my money safe with StashAway Malaysia?
When you deposit to invest in StashAway, you'll be depositing to the beneficiary name Pacific Trustees Bhd for StashAway. And Pacific Trustees Bhd is a Security Commission licensed trustee who provides custodial services to StashAway Malaysia.
This means your deposit is held with Pacific Trustees Citibank Berhad's account. And it also means that no matter what happens to StashAway Malaysia, you'll have full access to claim your asset.
If you need further explanation, you may read through StashAway FAQs under security.
Q5. Are StashAway's portfolios Shariah-compliant?
According to StashAway, their portfolios are not strictly Shariah-compliant.
Q6. How much should I invest in StashAway Malaysia?
Since there is no minimum deposit, you may try out with an amount you feel comfortable with. The reason is to test out the Robo-advisor yourself while getting familiar with the whole process.
Personally, I started with RM1,000. After about 4 months, when I felt positive about my investment, I topped up with another RM4,000.
Q7. How long does it take for StashAway withdrawal?
Based on StashAway FAQ on withdrawal, the withdrawal process takes approximately 4 to 5 business days for General Investing and Goal-based Investing Portfolios.
Personally, I have not made any withdrawals yet. Once I tried it out myself, I shall update my withdrawal experience in this StashAway Malaysia review.
Final thoughts
To conclude this StashAway Malaysia review, I believe StashAway is a great alternative to unit trust investment. Mainly due to its affordable investment opportunity with lower fees and using digital technology.
In addition, the Robo-advisory platform is less volatile compared to my other investment such as cryptocurrency. Although it's worth noting that there is a huge difference in terms of the returns from my Bitcoin investment. I am happy to have different types of investments with different types of risks and different levels of returns.
As for the StashAway performance review, I shall update it from time to time. So that you can have a look and decide whether the investment platform suits your personal finance needs.
If you are looking for a StashAway promo code, remember to sign up through my StashAway referral link. The promo link comes with 50% fees deducted for the first RM100,000 invested for 6 months.
Lastly, you might be interested to know about StashAway Simple, a cash management solution by StashAway. Discover more about StashAway Simple in my other posts, StashAway Simple Review and StashAway vs StashAway Simple.
Image Credits
Featured image by Gerd Altmann from Pixabay
First and second images from Canva
All screenshots were taken by the author