As a cryptocurrency (crypto) investor, one of the questions that people often asked me is 'when is the right time to buy cryptocurrency?'.
I always find it insufficient to answer in one sentence such as 'buy when the crypto prices are lower' or 'buy the dip'. Because I think these answers are too general and vague, especially for new crypto investors. Usually, I ended up telling them to invest time to study the price chart of the coin to identify buying opportunities.
So, in this post, I will be sharing my thought on when is the right time to buy cryptocurrency such as Bitcoin, based on three different situations. I also share screenshots of some of my crypto purchases at different prices and personal tips on the right times to buy crypto.
Table of Contents
[Disclaimer: I am not a certified financial planner. My sharing is purely based on my own research and personal experience and is intended as educational material. In order to make the best financial decision that suits your own needs, you must conduct your own research and seek the advice of a certified financial planner if necessary.]
When is the right time to buy cryptocurrency?
So, when is the right time to buy cryptocurrency? Below are three situations I consider the appropriate time to buy digital coins.
1. Buy when crypto prices are lower to maximize profit
Similar to other types of investment, it's always better to buy when crypto prices are lower.
If you are new to cryptocurrency investment, take a good look at the Bitcoin price chart and take note of those opportunities when the Bitcoin price is lower.
(Are you wondering why Bitcoin? Because Bitcoin is the world's largest cryptocurrency by market capitalization. And mostly Bitcoin prices influence other alternative cryptocurrencies (also known as altcoins)).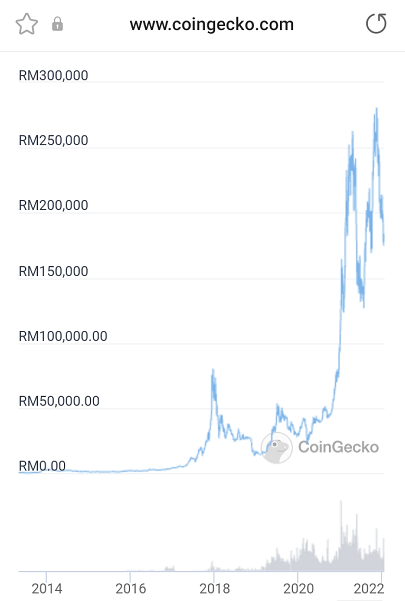 From the above Bitcoin price chart, you can see several major Bitcoin crashes, causing its price to go down drastically. Many crypto investors considered those dips as the perfect time to buy Bitcoin and other coins.
Although those crashes were history, you can learn to identify potential future opportunities by analyzing the price chart.
As a crypto investor, you may have higher possibilities to maximize the profits from your crypto investment when buying at a lower price such as during the cryptos crashes.
One important point here is to do your own research on the reasons for the crypto crash before you start investing.
Another opportunity worth knowing is buying crypto during its launching or soon before its price starts to pick up. Although its price can be really low, there's also a high possibility that the coin could fail in the competitive and ever-changing crypto industry.
If the new crypto fails, all money invested will be gone as well.
As it involved high risks, I don't recommend buying crypto during its launching unless you know what you're doing.
2. Buy when you are ready to own the crypto
Secondly, if you intend to own specific crypto and you are willing to buy no matter what is the price, you may consider buying when you are ready to buy.
Below are two situations where you might want to execute a buy order even when the crypto prices are going up.
You have saved up the amount to buy the crypto
One example is when you have saved up the amount that you are willing to lose, specifically for crypto investment. Thus, you are ready to buy the crypto (for example, Ethereum) at its current price.
In this situation, your main priority is to own the crypto (maybe you've done your research and you are convinced that Ethereum's price shall grow exponentially in the next few years). So, price becomes a secondary factor.
Since no one can predict the crypto prices, there are possibilities this strategy could work especially over the longer term.
The crypto market going up
Another example is when the crypto price keeps rising such as what happened to Ethereum between the end of April to mid-May 2021.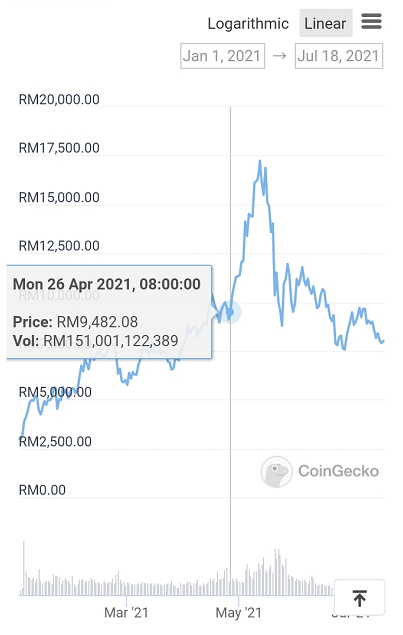 From the Ethereum price chart above, its price rose steadily from around RM9,500 to around RM17,000 between 26 April to 12 May 2021.
Sometimes it can be hard to wait for the crypto price to fall. If you keep on waiting for the price to fall, you might be feeling anxious as you see the crypto price rise hour after hour.
Instead of waiting for the price to go down, you may want to consider taking the risk of buying while the Ethereum price is moving up.
Bear in mind that, it is common for the crypto price to fall right after you completed the purchase. Based on my experience, 4 out of 5 of my crypto purchases resulted in the crypto price dropped within the next few days or weeks.
To be honest, I do have thoughts such as:
"I should have waited a while before I buy…"
"Why does the price drop after I buy?"
But, those thoughts only lasted for a few moments. After I tune back my thought towards the longer term (years instead of days or hours), I feel better.
And now, I have learned to accept that feeling regret and price drop after I buy or price increase after I sell is part of my crypto investment journey.
3. Buy anytime to try out the buying process
The third and last situation I consider the right time to buy cryptocurrency is buying at any time, and this is mostly applicable to your first crypto transaction with a minimum amount.
Initially, I feel uncomfortable including this situation as it seems to be contradicting the usual concept of buying at a lower price or buying the dip. Because I don't want to mislead you to simply buy your coins anytime without knowing the impact.
But, I decided this is a piece of important knowledge while buying crypto, especially for new crypto investors.
So, what I meant by the first crypto transaction is your first buying process with a new crypto platform. Right after your new crypto account is approved, it will be a good idea to try out the buying process.
The first buying process is important because you can:
experience the whole transaction

depositing fund requirements and procedure
transaction timeline

learn the actual buying procedure

timeline to receive the coins

be better prepared for your future crypto purchases
Since the main purpose is just to try out the buying process, I would suggest the following:
check the minimum crypto purchase allowed for the crypto platform
buy the minimum amount
try to buy when the crypto prices are lower
Personally, I tried out both of my first Bitcoin purchases at Luno Malaysia and Remitano Malaysia using a small amount. Although Bitcoin's price is not my main concern, I still wait patiently before I finally click the 'Buy' button.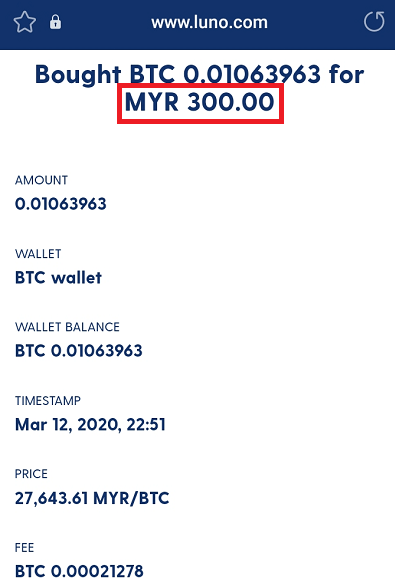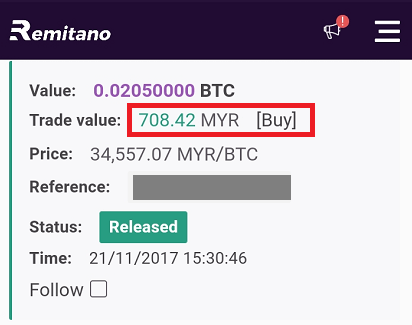 I find that those initial purchases did boost my confidence for the subsequent transactions. I am more aware of the whole procedure and better prepared for each transaction.
Why buy when crypto prices are lower?
As mentioned earlier, the benefit of buying crypto at a lower price is you increase the potential for better profit.
When you buy while the crypto prices are lower, you either:
paying less for the same amount of crypto; or
getting more crypto for the same amount you are paying for
In other words, you get to save money (for other investments or purposes) or you own more cryptos.
For example, the Bitcoin price dropped from RM40,000 BTC to RM20,000 BTC.
With RM2,000, you can own 0.1 of Bitcoin (or 0.1 BTC) at RM20,000 BTC instead of only 0.05 BTC at RM40,000 BTC earlier.
That difference of 0.05 BTC can be a significant amount. If the Bitcoin price hit RM300,000 BTC, that 0.05 BTC is equal to RM15,000.
So, generally, crypto buyers and investors want to own as much amount of crypto as possible with the amount of money invested. They can achieve this when they buy the desired coin at a lower price.
The right time I bought my cryptocurrency
Along my crypto investment journey, I came across those moments I considered the good time I bought my cryptocurrency.
I shared some of those moments below.
Buy the dip
In March 2020, the world market including the crypto market tumbled due to the pandemic. Bitcoin lost half of its value around 14 March 2020 to around RM24,000 BTC.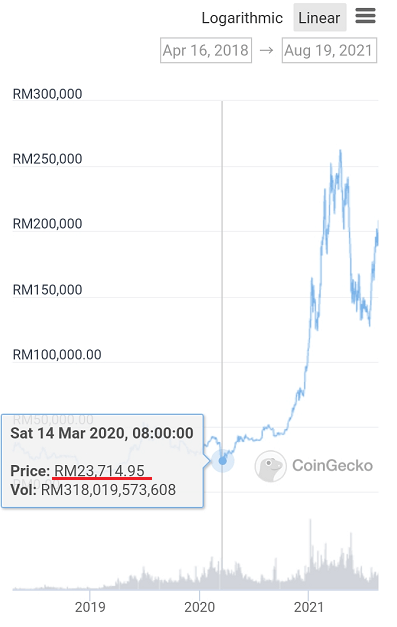 As I had been through (and missed out) a few Bitcoin ups and downs, I saw it as a great buy opportunity. So, I bought RM2,000 Bitcoin at RM25,400 BTC.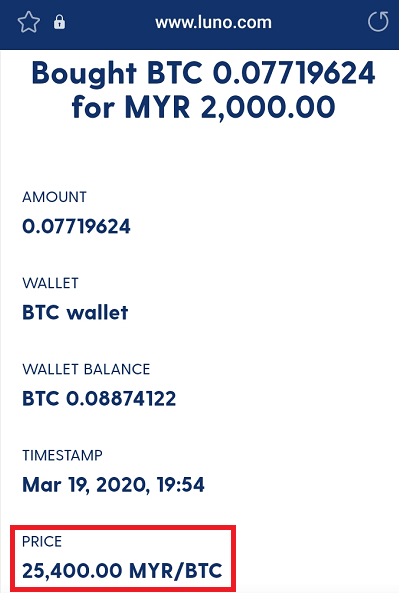 True enough, since then, Bitcoin had been moving upward most of the time.
I should have bought more Bitcoin instead of just RM2,000. But, I didn't because that RM2,000 is the amount that I am comfortable losing. As a careful crypto investor, I can't be greedy.
Buy crypto when the crypto price is rising
Since early 2021, I noticed Ethereum had been moving upward steadily.
When the price kept rising, I took the risk and bought some Ethereum at RM9,341 ETH in April 2021.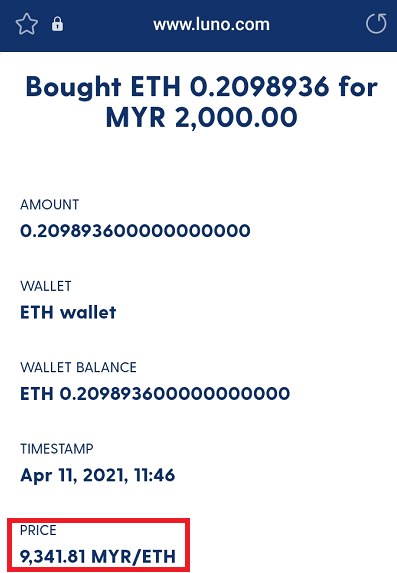 From then on, Ethereum prices are mostly over RM9,000 ETH. I considered this as one of those right timing I bought my cryptos. At the same time, I am also well aware that Ethereum's price can go lower than RM9,000 ETH anytime in the future.
Buy right after crypto hit an all-time high (ATH)
In September 2019, I bought Bitcoin at RM43,443 BTC. That was a few months after Bitcoin reached the June 2019 ATH at around RM49,000 BTC.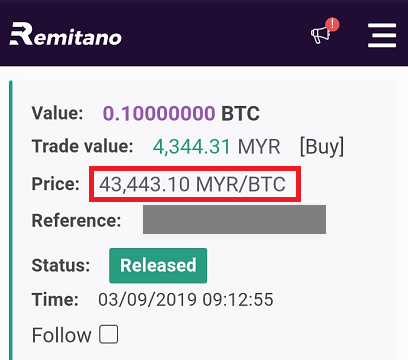 After that purchase, the Bitcoin price went down and slowly rose to around RM45,000 about one year later.
Currently, I am still making profits if I would sell my digital coins from the three situations mentioned above.
It's worth taking note that all three transactions above were dated back in 2019 and 2020. During that time, RM44,000 per BTC was considered high.
Now that the Bitcoin price has hit the greatest ATH at around RM280,000 BTC on 8 November 2021, I would not know the next Bitcoin ATH.
The not-so-right time to buy cryptocurrency
Throughout my crypto journey, I had come across those moments I considered not the right time to buy cryptos.
I can't say I bought the crypto at the wrong time. Because in a few years, the situation could be different.
Anyway, this experience is worth knowing.
Bought near to all-time high
One of those moments was when I bought Litecoin at RM1,099 LTC in mid-April 2021. Nearly a month later, Litecoin reached its ATH at RM1,581 LTC.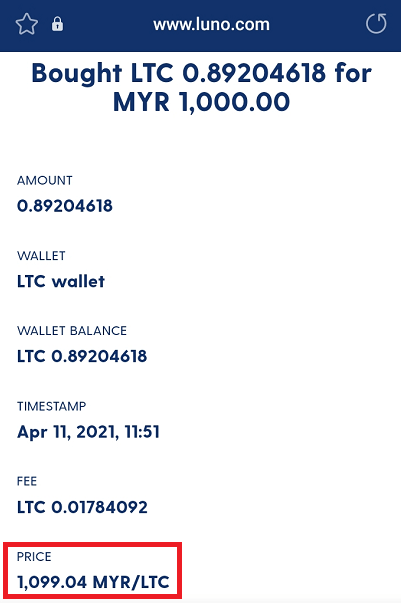 Two weeks after the ATH, Litecoin's price fell to around RM600. Since then Litecoin's price has mostly been between RM400 to RM600.
Maybe Litecoin's price will increase in the future. I am going to give it some more time, say a year or two.
Personal tips on the right time to buy cryptocurrency
Below are some of my personal tips on the best time to buy cryptocurrency:
Be ready for the crypto dip
Sometimes, lower crypto price due to market crash only lasted for a short duration. It will be helpful to get your crypto tools ready for such a situation by:
getting ready for a crypto exchange account
saving up a sufficient amount for your crypto venture
knowing well the crypto buying process using your crypto account
Although you can register for a crypto account anytime, it can take up to a few days to get your account verified and approved.
If you are looking for a good crypto exchange, I highly recommend Luno Malaysia. It is fully approved by the Securities Commission Malaysia (SC) to operate digital asset exchange in Malaysia. Discover more about the crypto exchange in my Luno Malaysia review and grab the Luno promo code worth RM50 in free Bitcoin.
As crypto crashes can happen anytime. Make sure your crypto tools are ready before it happens.
Buy in batches
Along your crypto journey, you will face situations such as the price of your desired crypto keeps going down. You want to buy but you're worried the price will go down further.
In this situation, you may consider buying in batches. Such as, instead of buying RM5,000 of Bitcoin in one lump sum, you may separate the purchase into 5 purchases of RM1,000 each (at different times).
This method allows you to have a potentially lower buy price. But, do take note, the crypto price might go up along the way and you might end up buying a higher buy price.
Again, always remember that every investment has risks. As the crypto market is highly volatile, you should only invest the amount you are willing to lose.
Setting a crypto buy price
While you are waiting for the right time to buy your desired crypto, it would be helpful to have a buy price or a range of buy prices in mind.
You can still buy without a target price. But, since the crypto market can swing ups and downs pretty fast, you might miss out on buying opportunities if you don't have a specific target price.
Over time, you may want to consider setting up a crypto investment plan too.
Invest through Dollar-Cost Averaging (DCA) method
If you still can't find the right time to buy cryptocurrency, you may invest using the dollar-cost averaging (DCA) method.
DCA is an investment strategy where you set up an automatic buy order on an interval you are comfortable with. For example, buy RM100 of Bitcoin on the 1st of the month of every month.
Luno Malaysia is among the crypto exchanges that offer the DCA method through its repeat buy feature. You can set up the buying frequency to be monthly, weekly or daily. A sample of the Luno repeat buy feature is below.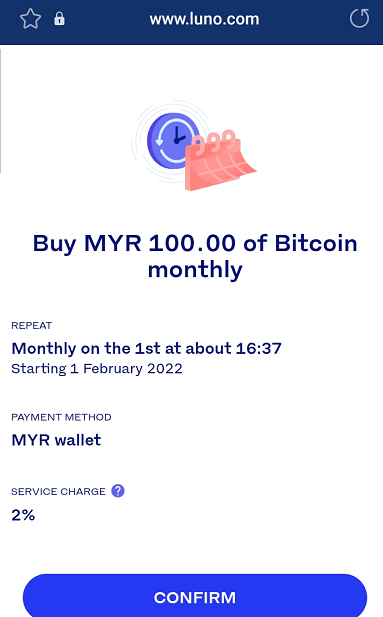 Since crypto prices are fluctuating, this method could work over the long term.
Be a 'Hodler'
In the crypto language, HODL is short for "hold on (for) dear life". So, a hodler means a crypto investor who holds onto his cryptocurrency, despite the sharp increases or decreases in the crypto market.
With that said, if you've picked the right digital coin, and you aim to be a holder, you have a higher possibility of making a profit over the long term. The timing of when to buy your crypto becomes less important.
As you can see the benefits of being a Bitcoin hodler from some of my screenshots shared earlier.
But again, the crypto world is highly volatile and ever-changing. Be a wise hodler and have your own crypto investment strategy.
Final thoughts
In summary, to maximize profit, it is best to buy crypto when its price is lower. But, if you have strong holding power, you could make money with crypto anytime, including when the crypto price is going up.
And if you are buying your first crypto on a new platform, you may want to try out your first transaction anytime with the minimum required amount.
Above all, the most important part is to invest only the amount you can afford to lose.
With my sharing above, I hope you have a better idea of when is the right time for you to buy cryptocurrency. Please do your own research to suit your needs before investing in cryptocurrency.
May you have a successful and fruitful cryptocurrency investment journey. Feel free to drop your comment below.
Image Credits
Featured Image by sergeitokmakov from Pixabay
All screenshots were taken by the author